We are looking for passionate volunteers to establish new Soapbox Science events in their local areas
What is Soapbox Science and why should you get involved?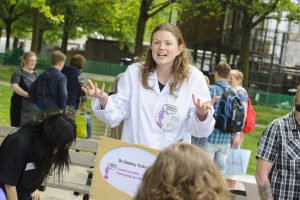 Soapbox Science is a novel public outreach festival for promoting women and non-binary scientists and the science they do. It is a fresh, no-frills grass-roots approach to bringing science to all people on the streets, especially those who wouldn't otherwise have come across science in their daily lives. Our Soapbox Scientists are real-life scientists, who are at the cutting-edge of scientific research. They stand on soapboxes on busy urban streets and talk to the passers-by about their science. They share their knowledge, answer the public's questions, and above all they share their passion and thirst for the advancement of science. Look out for bat simulators, fake breasts or giant pictures of volcanoes. Or simply hear them talk about what fascinates them, and why they think they have the most fantastic job in the world!
Over the past 10 years Soapbox Science has been established in more than 60 cities across the world and it is looking to expand! It has involved over 2000 scientists and reached over 250,000 members of the public. Dr Isabel Pires, a lecturer and cancer research scientists who organises Soapbox Science in Hull, says: "The training offered by the Soapbox Science team was really helpful, and the whole experience opened doors to me both at work and externally. It was a great platform to increase my visibility as a scientist."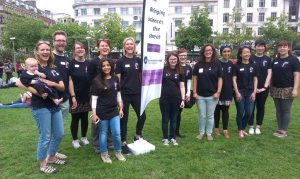 Soapbox Science HQ is interested in hearing from academic staff who would like to establish an event in their local area. Typically, organisers have been a Soapbox Science speaker or volunteer elsewhere, or they have heard about Soapbox Science and were keen to get involved. If you would like to read more about becoming a local organiser, read Dr Jo Pennock's blog post, the Manchester Soapbox Science Organiser.
Find out more about becoming a Local Organiser with our video:
What Soapbox Science HQ offers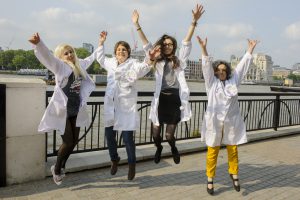 Soapbox Science will help with guidance and support. They will put out the call for speakers and assist in the administration of the selection process. They will also organise a training event for the Local Organisers (to be held in London this November) and provide support to the local team for them to deliver a speaker training workshop. Soapbox Science will actively promote the speakers, the Local Organisers and the event on social media and the website as well as on national press platforms. Soapbox Science will be there throughout the whole process to answer any questions you may have.
What we ask from our Local Organisers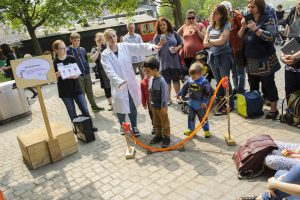 The Local Organiser(s) will be responsible for the organisation of the Soapbox Science event in their local area. This includes:
Assembling and managing an organising team. Organising an event is time consuming and we know that a team is needed to make the event a success.
Securing a venue
Selecting speakers
Securing funding to cover the costs associated with the organisation of the events (a typical Soapbox Science budget varies between £3,000 and £6,000)
Enlisting volunteers
Liaising with local press and media
Being an active ambassador for Soapbox Science
Organizing an event is a lot of work – and therefore we don't expect Local Organisers to act as speakers.
How to apply
In order to apply and help grow the Soapbox Science initiative, please fill out the online application form
The deadline to apply to become a Local Organiser for 2023 is the 31st of October, 2022
If you have any questions, please email soapboxscience@gmail.com