Soapbox Science Brighton
Soapbox Science Brighton brings science to the seaside! Brighton already has quite a few 'nerdy' events that take place, so we've already got an 'interested' audience for a lot of evening events. We like how Soapbox is different, bringing that knowledge out on to the streets, so everyone and anyone has the chance to hear a bit of science directly from the researchers.
To see what Soapbox Science Brighton looks like in action, check out our 2018 and 2017 videos.
Follow Soapbox Science Brighton on Twitter  and Facebook.
You can read the blog by Soapbox Science Brighton Co-organiser Dr Katy Petherick here.
The Team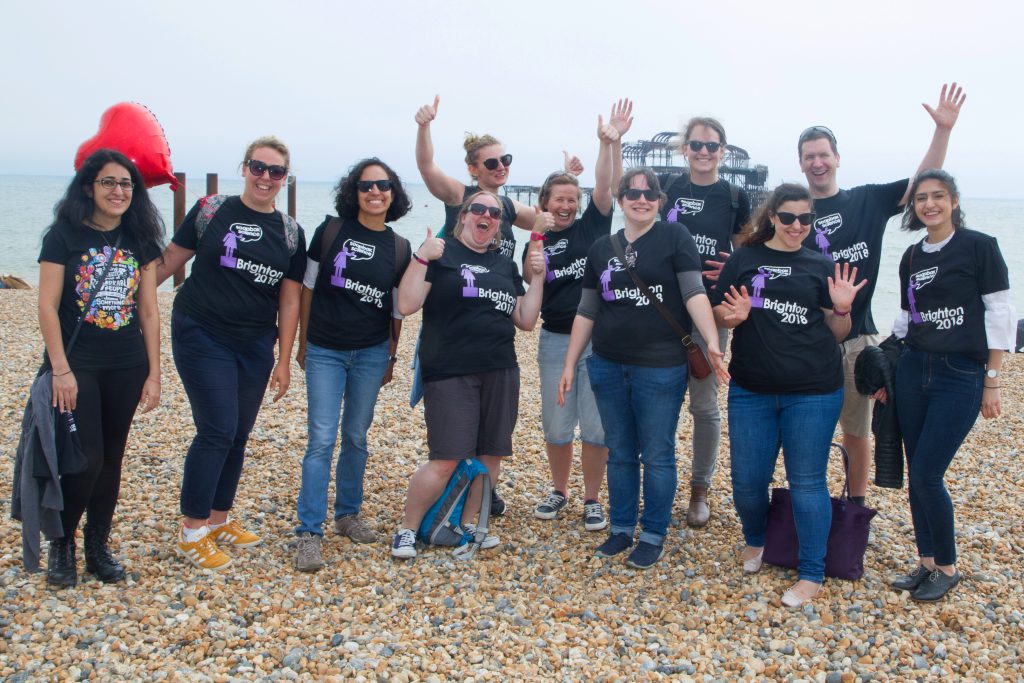 We are a range of researchers and professional services staff based at the University of Sussex, who have all come together to work on this event. We've had the input from three Soapbox Science alumni (Sam Furfari, Kathy Romer and Kayleigh Wardell), and their experience has been really useful in shaping our event. Everyone is bringing their own expertise to the team and are really positive and enthusiastic about Soapbox Science!
Beth Nicholls (Postdoctoral Research Fellow, School of Life Sciences) – Co-lead on organisation
Katy Petherick (Public Engagement Coordinator, School of Life Sciences) – Co-lead on organisation
Leanne Harris (Postdoctoral Research Fellow, School of Life Sciences) – Speaker coordinator
Maria Clara Castellanos (Marie Sklodowska-Curie Research Fellow) – Finance coordinator
Darren Baskill (Outreach Officer, School of Maths and Physical Sciences) – Photographer
Sam Furfari (Postdoctoral Research Fellow, School of Life Sciences) – Volunteer coordinator
Jess Gowers (Website, Communications and Events Officer, School of Life Sciences) – Social Media coordinator
Fiona Hurd (Communications and Engagement Officer, Business School) – Social Media coordinator
Sponsors
Our thanks go to the University of Sussex as the host institution for Soapbox Science Brighton, providing volunteers, logistical and financial support. We are grateful to our sponsors, without which our events could not bring fantastic researchers to the public. These have included: The South-East Physics Network, New England Biolabs, , Institute of Physics, Royal Society of Chemistry, Brighton and Sussex Medical School, UCL Mullard Space Science Laboratory, Association for the Study of Animal Behaviour, University of Sussex Schools of Life Sciences and Engineering and Informatics, University of Brighton, University of Southampton and Royal Holloway, University of London.
Past events
Find out about past events and speakers in Brighton: