Soapbox Science Brussels
Brussels, as the capital of Europe, is a concentrate of culture and intellectual life. A great number of research institutes, universities and Research and Development companies are located in and around the city.
However, in Belgium women in science are still the minority. Hence, we want to enhance the visibility of female scientists and promote their research to the public.
Soapbox Science will be a great opportunity to showcase the amazing work of the female scientists of our country.
Are you interested in developing a talk with us and in delivering it to the streets of Brussels? Don't hesitate to apply!
The talks will be in French, Dutch and English (mother tongue of the individual speakers).
The Team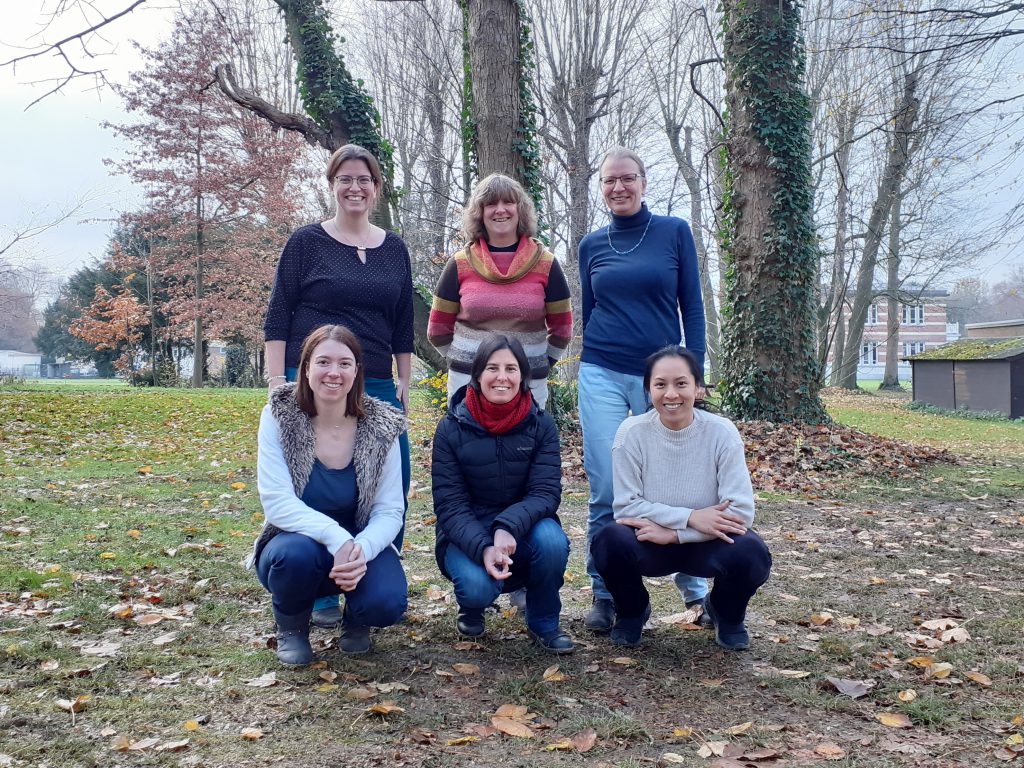 We are a dedicated and motivated team of six researchers and science communication officers involved in space science and working at the Space Pole Site in Uccle, in the Southern part of Brussels.
We have some many wonderful women in science in Belgium. It's time for the public to meet them and a Soapbox Science event is just the best format to make this happen. We hope that our speakers and their passion will be an inspiration for the future generations of scientists.
Dr. Lê Binh San Pham, team coordinator, communication officer at the Royal Observatory of Belgium. Scientist and science outreach enthousiast. Passionate about science and planets and about sharing science to everyone (LinkedIn: lebinhsanpham)
Dr. Arianna Piccialli, researcher in planetary atmospheres at Royal Belgian Institute for Space Aeronomy. Passionate about planets, our solar system, science outreach, diversity&inclusion (Twitter: @apic79, LinkedIn: ariannapiccialli)
Dr. Christine Bingen, studies atmospheric composition at the Royal Belgian Institute for Space Aeronomy. Her favourite engagements are public outreach, addressing climate issues and promoting inclusion and gender equality.
Dr. Marie Yseboodt, scientist at the Royal Observatory of Belgium studying the rotation and interior of Mars, Mercury and icy satellites (Twitter: @ysebm, LinkedIn: marieyseboodt)
Dr. Karolien Lefever, astronomer and atmospheric scientist, responsible for communication & public outreach at the Royal Belgian Institute for Space Aeronomy. Disposing of a strong scientific curiosity herself, she loves sharing her enthusiasm for science with young and old.
Lucie Lamort, communication officer at the Royal Belgian Institute for Space Aeronomy, has a passion for curiosity (Instagram: @lucyinthequarks, LinkedIn: lucie-lamort)
Contact: Royal Observatory of Belgium, avenue circulaire / Ringlaan 3, 1180 Brussels, Belgium
Email: soapboxsciencebrussels@oma.be
Soapbox Science Brussels Facebook: https://www.facebook.com/SoapboxScienceBrussels/
Soapbox Science Brussels Twitter: https://twitter.com/SoapboxScienceB
Sponsors
We could not run this event without the generous logistical and financial support of our sponsors.
The Royal Observatory of Belgium
The Royal Observatory of Belgium is an internationally renowned research institute with recognised expertise in the study of planet Earth and other nearby or remote objects in the Universe. Astronomy, astrophysics, planetology, geophysics, seismology, gravimetry, spatial geodesy and solar physics constitute the main research fields of the Observatory.
As a public institute, the Royal Observatory of Belgium also provides scientific services to the scientific community, to the public, to the government and to the whole society. Such services include time service, management of the Belgian seismic network, integration in international reference systems of the Belgian GNSS stations (Global Navigation Satellite Systems such as GPS and Galileo), gravimetric measures, continuous monitoring of the solar activity, space weather forecasts and diffusion of information related to astronomical phenomena.
The Royal Observatory of Belgium also manages the Planetarium at the Heysel site in Brussels, which is also the public showcase of the 3 Federal Scientific Institutes of the Space Pole, comprising the Observatory.
The Royal Observatory of Belgium is the host institute of Soapbox Science Brussels and supports Soapbox Science Brussels for all its activities.
The Royal Belgian Institute for Space Aeronomy
The Royal Belgian Institute for Space Aeronomy (BIRA-IASB) is a Belgian federal scientific research institute. Its main tasks are research and public service in space aeronomy, which is the physics and chemistry of the atmosphere of the Earth and other solar system bodies, and of outer space. It studies the impact of the Sun, nature and mankind on atmospheric changes.
This Belgian knowledge centre has the required competences to elaborate all elements of a space mission to perform a complete study of an aeronomic problem: the formulation of research objectives, the consequent instrument and space mission design, the derivation of satellite data products, their validation and geophysical exploitation, including modelling and service development. All its activities have one goal in common: the broadening of our knowledge of the atmospheres of celestial bodies. Improved knowledge is indispensable to better inform the citizen and policymakers and to find answers to the societal challenges concerning the natural environment we live in.
Discover BIRA-IASB at https://www.aeronomie.be/ or https://youtu.be/Z3dnJRWtPhY
The Federal Science Policy is one of the main actors of scientific research in Belgium. It brings together many prestigious research programs and manages ten federal scientific institutes.
The 10 Federal Scientific Institutes managed by BELSPO are full of assets. They offer not only exceptional environment and research materials for scientists but also world-class artistic and historical collections.
Thanks to its research programs, its federal scientific institutes and with 2300 employees, BELSPO brings together a wide range of expertise in various fields such as astronomy, astrophysics, meteorology, history, art history, paleontology, meteorology, mineralogy, musicology, seismology, gravimetry, climatology, anthropology, earth sciences, archivistics, conservation, restoration, information sciences, codicology, aquatic and terrestrial ecology, cartography, molecular biology…
Science and culture are in BELSPO interconnected to develop a more sustainable and harmonious society. So, contributes BELSPO to the knowledge of the environment in order to improve the well-being of society and ensure its sustainable development.
University of Liège is one of Belgium's leading universities, founded in 1817. ULiège welcomes 25,400 students, 23% of whom are of international origin (122 nationalities). ULiège is the public university of the Wallonia-Brussels Federation. It includes 11 Faculties representing the Humanities, Health Sciences, Sciences and Technology. With 40 bachelor's degrees and 207 master's degrees, its range of undergraduate and postgraduate courses is among the most diversified in Belgium. ULiège is located in 3 cities in Wallonia: Liège, Gembloux and Arlon. Its courses have several international quality labels (EQUIS, AACSB, EUR-ACE, Conférence des Grandes Ecoles). ULiège collaborates with more than 1,000 teaching and research institutions throughout the world. It boosts its research centres in fields such as biotechnologies, life and medical sciences (human and veterinary), agronomy, space and engineering sciences, environment, etc., by developing partnerships with public authorities and companies. More than 100 spin-off companies created by ULiège are in activity. ULiège is a major employer in Wallonia: more than 5,700 employees, including 640 academic staff and 2,900 people involved in teaching and research activities. Together with the University Hospital (CHU) of Liège, this represents 12,000 direct jobs spread over the provinces of Liège, Namur and Luxembourg.
ULiège motto: SCIENTIA OPTIMVM
www.uliege.be / #ULiège / @UniversiteLiege
Universiteit Hasselt (UHasselt):
Hasselt University: Innovative and engaged
Civic university
UHasselt is more than its seven faculties, four research institutes, three research centres, 6,500 students and 1,400 researchers and staff. As civic university UHasselt is strongly committed to the Region and the world. It wants to make our society smarter, more agile and better. Through education, research and technology transfer.
Innovation
Throughout its history, innovation has been – and still is – a constant in everything the University does. When it comes to nurturing talent, pushing scientific boundaries and stimulating innovation, they believe in doing things differently. In a constant changing world, they have to. That is what makes UHasselt the university of today.
Education
Hasselt University's approach to education is unique. They encourage students to look beyond books and classrooms. They equip them with knowledge and skills. Action and interaction. Thinking and doing. Intensive guidance. That is what being a student at UHasselt is all about. Their alumni are critical, engaged, agile and versatile professionals.
Discover UHasselt at https://www.uhasselt.be/ or watch Hasselt University: Facts & Figures 2021
The Europlanet Benelux Hub aims to promote planetary sciences at a regional level considering its infrastructures, community, industry and research opportunities. It is part of the Europlanet Society, which promotes the advancement of European planetary science and related fields for the benefit of the community.
If you are interested to support our event, please contact us at: soapboxsciencebrussels@oma.be
Past events
Find out about past events and speakers in Brussels: