Soapbox Science Munich
After hosting their first and very successful Soapbox Science event in 2018, the Munich team is eager and already looking forward to continue sharing science with the public! Last year, the event reached a whopping 1368 people who visited their event at Odeonsplatz. With its many research institutes and universities, Munich is a true hub for science. Despite this,  the proportion of female professors in Bavaria is less than 20% and the lowest in Germany . We want to encourage and  utilise the power of strong female scientists to educate and inspire the public about science.
The organizers are a team of scientists from different nationalities living in Munich, where we study a range of topics within life sciences. We organise this event to fulfill our common goals: make science available for people of all backgrounds and ages, and empower future female scientists. If you would be interested in developing a talk with us and delivering it to the streets of Munich, please don't hesitate to apply!
The Team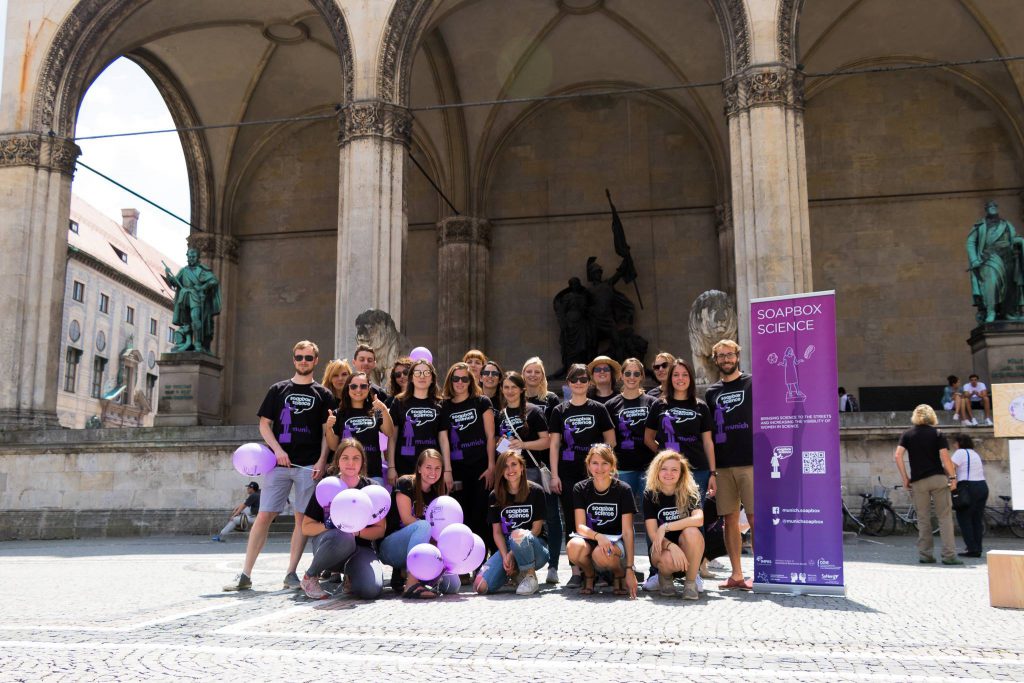 Judita Huber, PhD student in Neuroscience, Ludwig-Maximilians-Universität München, Graduate School for Systemic Neurosciences
Cilia Jaeger, PhD student in Neuroscience, Technical University of Munich, Graduate School for Systemic Neurosciences
Johanna Kobler, PhD student in Neuroscience, Technical University of Munich, Graduate School for Systemic Neurosciences
Viktoria Korzhova, Coordinator of IMPRS-LS, Max Planck Institute of Biochemistry
Liliana Pedro, PhD student in Neuroscience, Ludwig-Maximilians-Universität München, Graduate School for Systemic Neurosciences
Becky Sadler, PhD student in Neuroscience, Ludwig-Maximilians-Universität München, Graduate School for Systemic Neurosciences
Jelena Milic, PhD student, Ludwig-Maximilians-Universität München, Munich Medical Research School
Dr. Margit Weber, Academic Director, Women's representative of Ludwig-Maximilians-Universität Munich
Contact: soapboxsciencemunich@gmail.com
Sponsors
Past events
Find out about past events and speakers in Munich: