Soapbox Science returns to Cardiff in 2019 for another day of excitement and discovery. Come along and find out about the truly amazing work that's being done by researchers in your community as they demonstrate their science in engaging and inventive ways. There will be opportunities for you to join in the fun by talking to real scientists, asking them questions, and taking part in hands-on practical demonstrations and exhibitions.
For this year's event, on Saturday the 1st of June, we'll be taking over the Alliance Statue area, near the central library. If you head there between 1-4pm then you'll be able to see our speakers up on the soapboxes; just look for the crowd. If you've never been to Soapbox Science before then this is the perfect chance to find out why these events have become so popular, and if you have been before then you already know how great it is and we'll see you there!
Soapbox Science exists for two main aims. Firstly, we want to make science accessible to the public; a lot of our speakers are researchers working at surrounding universities, and we think it's important that you're informed about the kinds of ground-breaking work that's going on in these educational facilities. Secondly, when you attend our event you'll realise that all our speakers are women, and that's because one of our aims is improving the visibility of women in STEM subjects. For a long time these fields have had far fewer women working in them, and for no good reason, we're here to inspire the next generation, and show them that science is for everyone.
Details of the location and timing of the event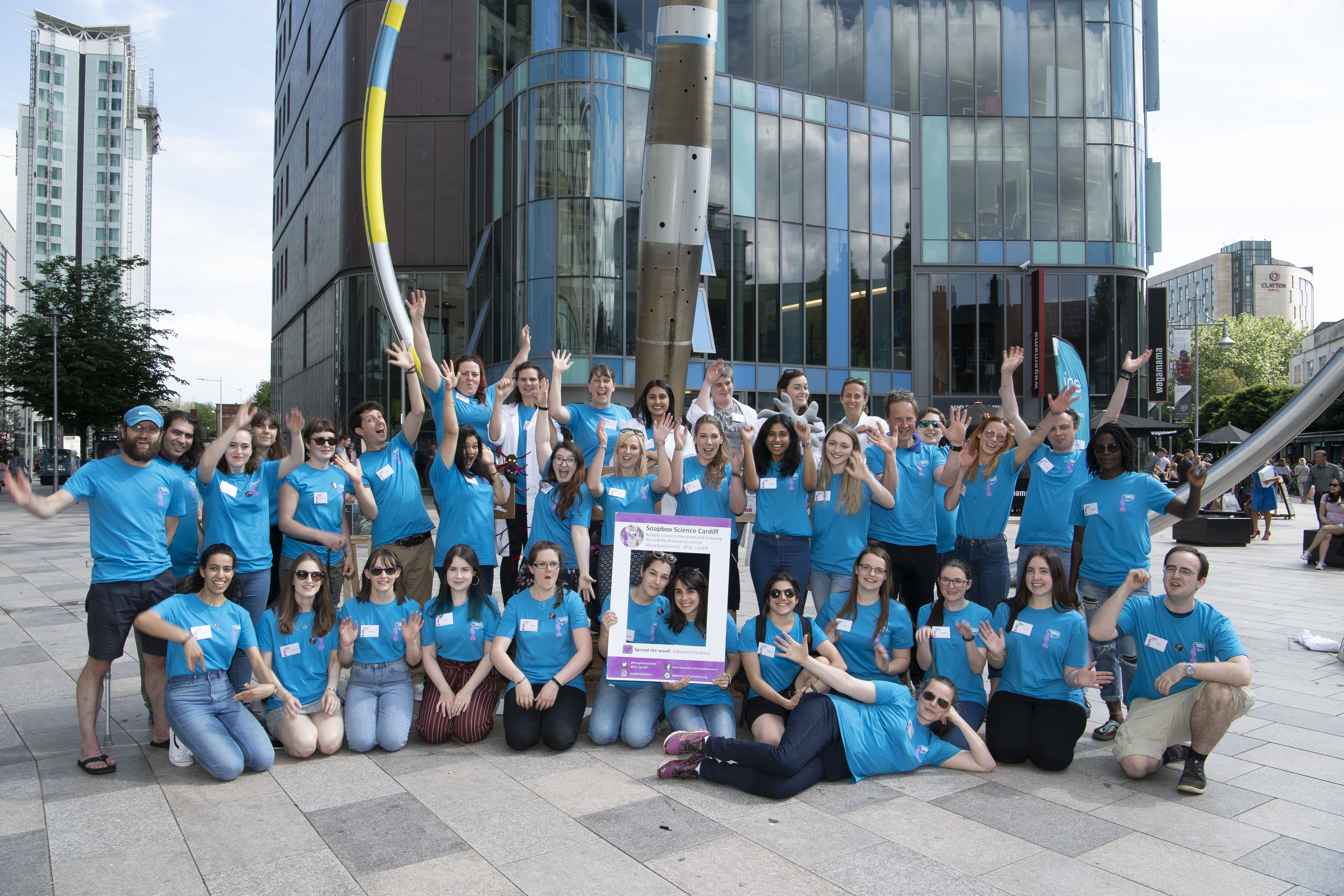 Date:  Saturday 1st June 2019
Address: Alliance Statue
Time: 1pm-4pm
Speakers
Selected from a competitive pool of researchers, our 12 speakers will be sharing their work in technology, science, medicine and engineering. The speakers and their discussion topics are:
Ms. Wekadapola Mudiyanselage Chamilka Rukshani Thilakaratne (@chamilkat), University of South Wales "Bacterial Cellulose as a sustainable and environmentally friendly material"
Dr Esin Karahan (@esinkarahans), Cardiff University "Trace back from behavior to brain: when and how do you make decisions?"
Dr. Ariel Edesess (@ArielEdesess), Liverpool John Moores University "Our sustainable future: the role of zero carbon technology in economic and social global development"
Dr Jo Welton (@DrJoWelton), Cardiff Metropolitan University "What is multiple sclerosis and how can tiny bags of biology help us diagnose it?"
Dr Victoria Garcia Rocha (@vgarciarocha), Cardiff University "How to create new materials!"
Dr Tracie McKinney (@mckinney_monkey), University of South Wales "Monkeys in my backyard: How human and non-human primates can coexist"
Miss. Sky Redhead, University of South Wales "Super pooper- what happens to super bugs from your gut?"
Miss Rachael Medhurst, University of South Wales "Digital Forensics: How is data recovered?"
Miss Emma Aspland (@EmmaAspland), Cardiff University "Using mathematics to improve healthcare"
Dr Caitlin Edgell (@CaitlinEdgell), University of Bristol "Tailor-made molecules for bespoke biology"
Miss Constance Black (@connibl), Cardiff University "Using computers and dancing to make 'green' biofuel for your car – Are catalysts saving the world?"
Dr. Irina Erchova, Cardiff University "The Eye: A Window to Your Brain"
Discover our 2019 speakers:
[print_gllr id=7047]