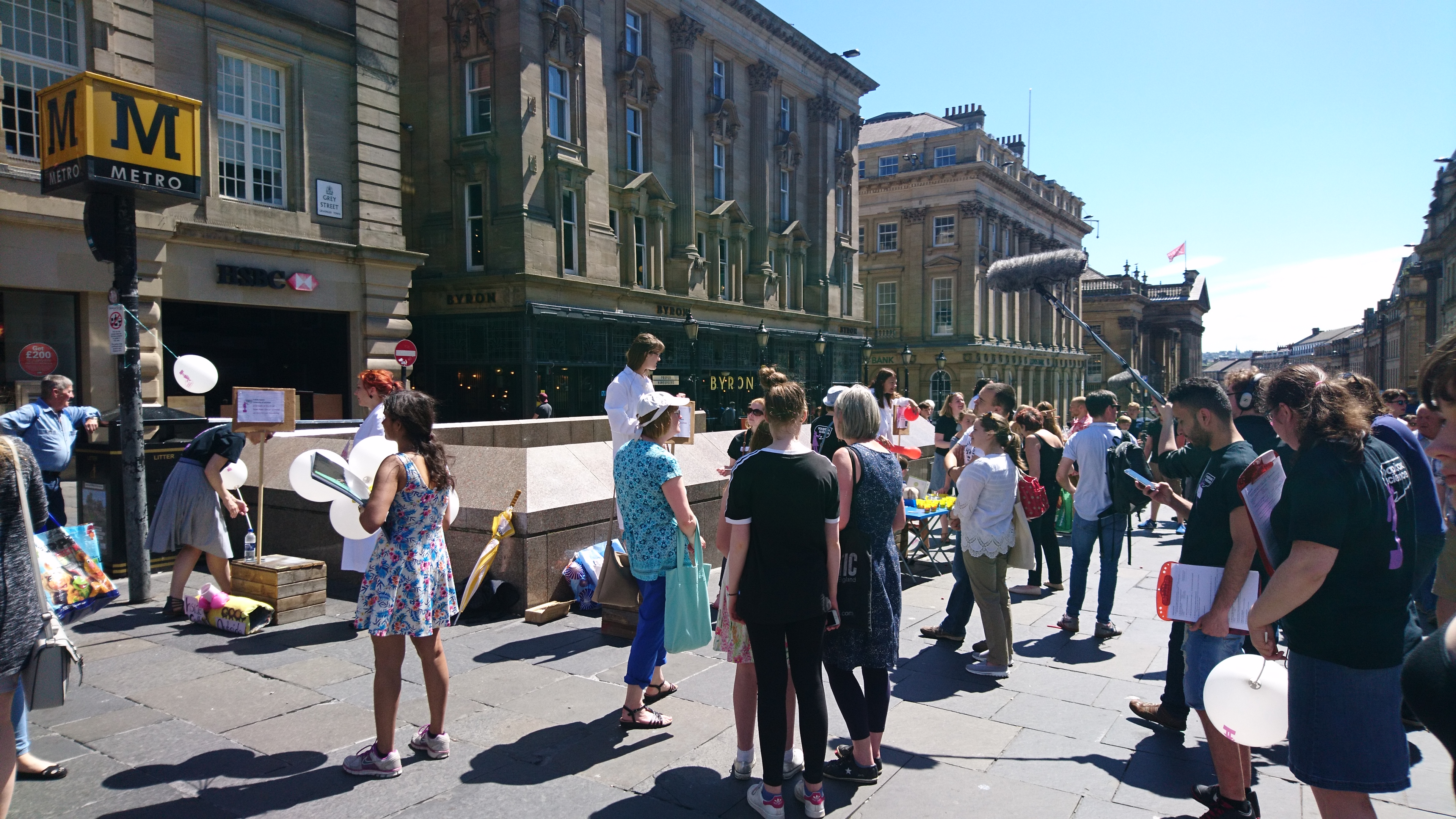 Newcastle is excited to be hosting Soapbox Science for a fifth year! Inspirational female Scientists from the North East will be taking to their soapboxes and wowing the local community with their cutting edge science! We will be commandeering Grey's monument in the City Centre on Saturday 15th June 2019 from 12pm- 3pm
Want to find out more about what a Soapbox Science event is like in action? Read the blog about the 2018 event here! And watch the 2017 highlights video.
Meet the Soapbox Science 2019 Newcastle local organising team
Details of the location and timing of the event
Date:  Saturday 15th June 2019
Location: Grey's monument
Time: 12pm-3pm
Volunteer with Soapbox Science Newcastle
Are you passionate about science and love talking to people about it? Do you want to help raise awareness about gender equality in science careers? Soapbox Science is looking for volunteers to help out at their event on 15th June!
Soapbox Science is not just about the speakers. Without a supportive team of committed, enthusiastic people, a Soapbox event simply cannot happen. Each event relies on an animated team of up to 20 volunteers.
Join us for an afternoon of fun, informal and inspiring science and help challenge ideas about who can be a scientist!
Find out more and sign up here
Speakers
Selected from a competitive pool of researchers, our 12 speakers will be sharing their work in technology, science, architecture and engineering. The speakers and their discussion topics are:
Dr Rachael Lawson (@rachaellawson85), Newcastle University "Pay attention! The unseen impact in people with Parkinson's disease"
Christina Julius (@alphasubunit), Newcastle University "Viruses against tuberculosis"
Lianna King (@miss_stem), Newcastle University "Using bacteria to treat drinking water"
Dr Marta Cecchinato (@martacecchinato), Northumbria University "Take control of your digital devices: how to manage work-life balance in the digital age"
Charlotte Graham (@_CharGray), Newcastle University "Haven't you heard? Mitochondria are the powerhouse of the cell!"
Dr Rebecca Payne (@Rebecca37704429), Newcastle University "Probiotics and the future of medicine – can "good" bacteria really be harnessed as a therapy?"
Samantha Mason (@SammyMason25), Durham University "Spying on nature: How we use camera traps to monitor UK mammals through the citizen science project MammalWeb"
Yasmin Ahmed (@Yasmin_Ahmed_93), Newcastle University "FUNgi"
Alexandra Blain (@blain_alex), Newcastle University, "Cancer: the immune system strikes back"
Miss Maydel Fernandez-Alonso (@Maydel36 ), Newcastle University "How do our eyes focus light?"
Ms Emma Kampouraki, Newcastle University "Listen to your blood; personalised anticoagulants"
Discover our 2019 speakers:
[print_gllr id=6524]