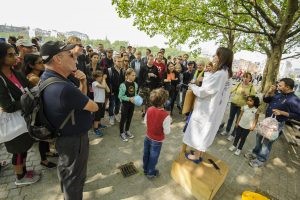 Reading is excited to be hosting Soapbox Science this year!
On the 8th June 2019, 1-4 pm, Broad street will transform into a hub of scientific learning and discussion. Twelve women in STEM (science, technology, engineering and maths) will be showcasing their amazing science. The event's mission remains the same: to help eliminate gender inequality in science by raising the profile, and challenging the public's view, of women and non-binary people in science. The event is free. If you'd like to see what Soapbox Science looks like in action, have a look at the Soapbox Science 2015 video
Meet the Soapbox Science Reading local organising team.
Details of the location and timing of the event

Date:  8th June 2019
Location: Broad Street, Reading RG1
Time: 1 pm – 4 pm
Sponsors
We couldn't run this event without the generous logistical and financial support of our sponsors.Soapbox Science 2019 Reading is sponsored by Johnson Matthey and University of Reading.


Speakers
Selected from a competitive pool of researchers, our 12 speakers will be sharing their work in technology, science, medicine and engineering. The speakers and their discussion topics are:
Rachael Chandler, Biomedical Sciences, School of Biological Sciences, University of Reading, "Parkinson's, DNA and… microscopic worms?!"
Dr. Joanna Clark (@JoClarkUoR), Soil Research Centre, Department of Geography and Environmental Science, Reading University, "Can soil, grass and trees help to manage flooding?"
Dr. Maria D. Christodoulou (@melasnous), Department of Statistics, University of Oxford, "Why do we grow old?  Ageing, demography, and the fun of biostatistics."
Dr. Sofia Gripenberg, Ecology and Evolutionary Biology, School of Biological Sciences, University of Reading, "What would a forest without insects look like?"
Hannah McGivern, Cranfield forensic institute, Cranfield University, "Getting older is no Humerus matter! Myths about our skeleton and ageing"
Dr. Leah Morabito, Department of Physics, University of Oxford, "Super massive black holes: how do they shape galaxies?"
Jessica Phillips,  Department of Zoology, University of Oxford, "Dive Like a Penguin – Foraging Behavior of an Antarctic Predator"
Daisy Shearer (@DaisyShearer, @notesfromthephysicslab), Department of Physics, University of Surrey, "From lasers to quantum computing: how quantum technologies impact our lives"
Dr. Nandini Vasudevan, Endocrinology, Biomedical Sciences, School of Biological Sciences, University of Reading, "Why do we behave the way we do?"
Julia Vogt (@JuliaVogtPsy), Perception, Cognition and Nutrition, School of Psychology and Clinical Language Sciences, University of Reading, "Do you see what you want or what you fear"
Dr. Vicky Boult (@vlboult), Ecology and Evolutionary Biology, School of Biological Sciences, University of Reading, "An elephant's appetite"
Chanida Fung (@chanida_fung), Ecology and Evolutionary Biology, School of Biological Sciences, University of Reading: "Insects and individuals: Why should we care?"
Discover our 2019 speakers:
[print_gllr id=7089]