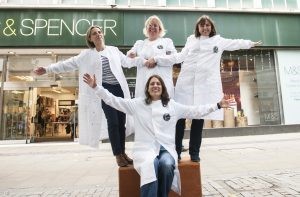 Swansea will be hosting its sixth Soapbox Science event on Saturday 22nd of June 2019. Our soapboxes will once again be in the Swansea's shopping area in the city centre. The city will be buzzing with shoppers, families, tourists and other city dwellers – we aim to stop them in their tracks with women at the forefront of science and technology from all over Wales and beyond talking about their research! The event's mission is to raise the profile, and challenge the public's view, of women in science, technology, engineering, maths and medicine (STEMM). If you'd like to see what Soapbox Science looks like in action in Swansea, have a look at our Soapbox Science Swansea 2017 video
Details of the location and timing of the event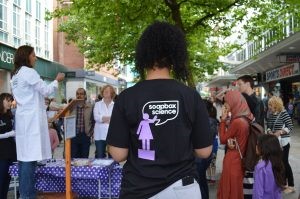 Date: Saturday 22nd June 2019
Address: City Centre, Oxford Street, SA1 3AE
Time: 12 – 3pm
Speakers
Selected from a competitive pool of researchers, our speakers will be sharing their work in technology, science, medicine and engineering. The winners and their discussion topics include:
Dr Sandra Bustamante-Lopez (@sandracbl), Swansea University "Red Blood Cells + Sensors, we are a wise Bunch!!"
Dan Rouse (@DanERouse), Welsh Ornithological Society, "Seeking Birds: A tale of bird conservation."
Dr Charlotte Eve Davies (@_CharlotteEve_), Swansea University "Crabs, climate change and diseases in our oceans"
Miss Jainaba Sallah Conteh (@BioChemBromance), Swansea University "Cooking your plastic waste into electric wires"
Dr Siyuan Liu, Swansea University "Computing technologies for the older people: games and devices"
Dr Awa Andongma (@Aawawing), Swansea University "Why insects need microbes"
Dr Alys Bethan Einion (@AlysEinion), Swansea University "Centred Birth: It's all in the mind – using the mind to enhance fertility and reproduction."
Dr April Cridland (@valeinterfac), Swansea University "Trapped antimatter – controlling annihilation"
Dr Zubeyde Bayram-Weston (@ZBW23), Swansea University "Amazing Anatomy: Why Anatomy matters in disease? "
Miss Hannah M Jones (@JonesHannahM), Swansea University "A Healthy Swimmer Is A Happy Swimmer"
Sponsors
We could not run this Swansea event without the generous logistical and financial support of our sponsors.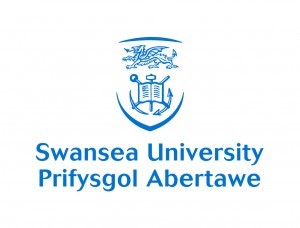 Our Swansea events have been supported generously from the start by Swansea University and its STEMM colleges: College of Engineering, College of Science, College of Human and Health Sciences, and the Swansea University Medical School, especially the Athena Swan teams.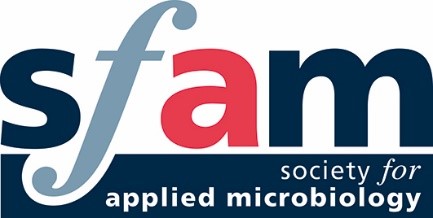 The Society for Applied Microbiology (SfAM) will sponsor the event and three of its speakers (Drs Andongma and Davies and Miss Jones) at Soapbox Science Swansea 2019. SfAM works to advance, for the benefit of the public, the science of applied microbiology in its application to the environment, human and animal health, agriculture, and industry. It works in collaboration with other organizations to ensure evidence-based policy making and, in partnership with Wiley, publishes five internationally acclaimed journals. Value for money and a modern, innovative and progressive outlook are the Society's core principles. A friendly society, SfAM values integrity, honesty, and respect, and seeks to promote excellence and professionalism and to inspire the next generation of microbiologists.

The Learned Society of Wales has pledged support for Soapbox Science Swansea 2019. The Learned Society of Wales' mission is to promote the advancement of learning and scholarship and the dissemination and application of the results of academic enquiry and research, to act as an independent source of expert scholarly advice and comment on matters affecting the research , scholarship and wellbeing of Wales and its people, and to advance public discussion and interaction on matters of national and international importance, and to celebrate, recognise, preserve, protect and encourage excellence in all scholarly disciplines, and in the professions, industry and commerce, the arts and public service.
Twitter: @LSWalesCDdCymru
Discover our 2019 speakers:
[print_gllr id=7702]