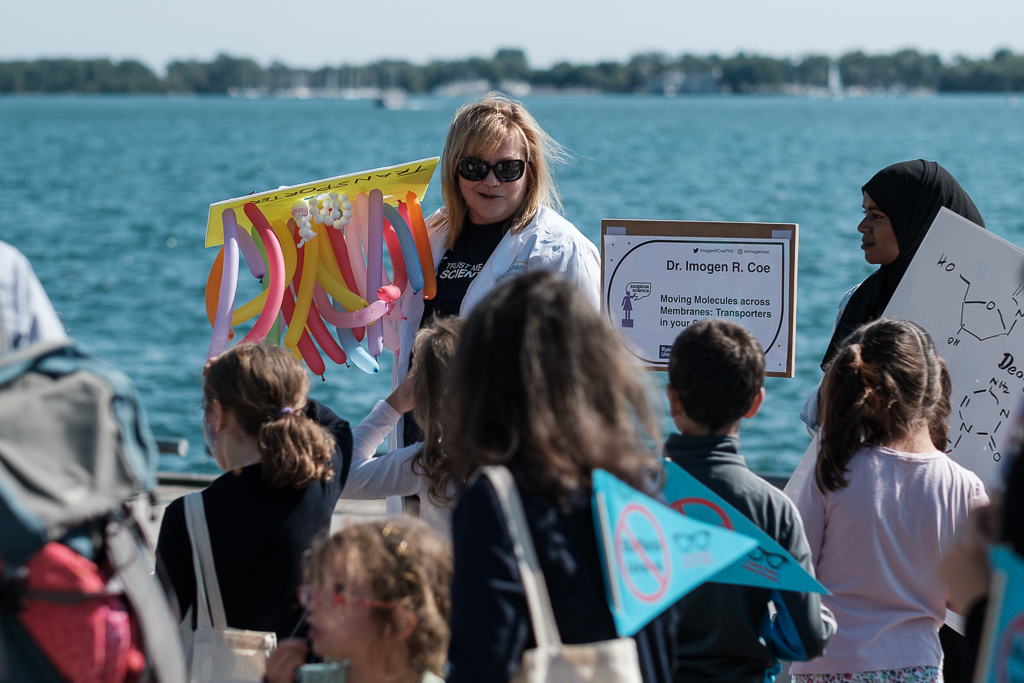 In 2017 we introduced Soapbox Science to North America and we couldn't be more excited for this year's Toronto event! Our organizing team is preparing for another fabulous day in September at Toronto's Word on the Street Festival. What better way to promote science in the streets than at a literacy street festival? Last year we engaged hundreds of families along Toronto's Harbourfront; they were surprised and delighted to have the chance to meet our scientists in person and learn about their research.
The Organizing Team for Toronto's event includes:
Leigh Paulseth, Science Outreach & Enrichment Coordinator, Ryerson University
Dr. Emily Agard, Director of SciXchange, Ryerson University
Samantha Yammine, PhD Candidate & 2017 Soapbox Scientist, University of Toronto
Fernanda Ortega, representative of the Association of Undergraduate Women in Science
We are delighted to apply our passion for science outreach to Soapbox Science. As a group, we share a fundamental belief that diversifying science contributes to better science, better decision-making and better opportunities for everyone. By giving our fabulous Soapbox Scientists a platform to share their knowledge with the public, we are building a more accessible and inclusive science community.
Sponsors
Soapbox Science Toronto is being sponsored by the Faculty of Science, Ryerson University.
Details of the location and timing of the event

Date:  :  Sunday September 22nd 2018
Address: Word on the Street Festival, Harbourfront Centre, 235 Queens Quay W, Toronto
Time: 12pm-3pm
Speakers
Selected from a competitive pool of researchers, our 12 speakers will be sharing their work in technology, science, medicine, math and engineering. The speakers and their discussion topics are:
Talia Lowi-Merri (@TaliaMLM), University of Toronto & Royal Ontario Museum, "Dinosaurs are Alive, and There's One Flying Above You"
Dr. Parinaz Sobhani (@PariAIML), Georgian Partners, "AI: A Threat to Humanity or Our Path To Enlightenment"
Erin Meger (@erinmeger), Ryerson University, "Putting the Network in Social Network"
Dr. Miranda Kirby (@MirandaKirbyPhD), Ryerson University, "Seeing is believing: how medical imaging is helping us better understand lung disease"
Dr. Andrea Kirkwood (@KirkwoodLab), University of Ontario Institute of Technology, " It's where we live: Understanding urban ecology and why it matters"
Dr. Laura Parker (@LaCaParker), McMaster University, "The Dark Universe"
Dr. Sila Appak Baskoy (@AppakSila), Ryerson University, "Go with the Flow"
Carmen Lee (@carmlingling), McMaster University, "Squishy Physics: Learning complex physics through everyday observations"
Dr. Ashleigh Tuite (@AshTuite), BlueDot, "Can math prevent the next pandemic?"
Jennifer Williams (@MacKinesiology), McMaster University, "Stress, Exercise, Hormones: The inner workings of the cardiovascular system"
Anita Luu (@AmoebaAnita), University of Guelph, "The conversation between our cells: what can we learn from eavesdropping?"
Dr. Tammy Eger (@eger24), Laurentian University, "Shake, rattle, and roll: vibration exposure and health risks"
Discover our 2019 speakers:
[print_gllr id=6574]