Soapbox Science London is running an online event this year! Log on to Soapbox Science's YouTube to watch some of London's leading scientists showcase their science to the general public. After viewing the videos, join us for a zoom session to ask your questions and meet the scientists. The event's mission remains the same: to help eliminate gender inequality in science by raising the profile, and challenging the public's view, of women and underrepresented genders in science.
Event details
Videos available now!
Zoom question sessions:
Tuesday 8th September, 10am.
Join the zoom webinar here. Meeting ID: 983 7839 4647. Password: 558834
Wednesday 9th September, 10am.
Join the zoom webinar here. Meeting ID: 931 7609 5321. Password: 232332
Thursday 10th September, 10am
Join the zoom webinar here. Meeting ID: 948 3640 9937. Password: 750409
sponsors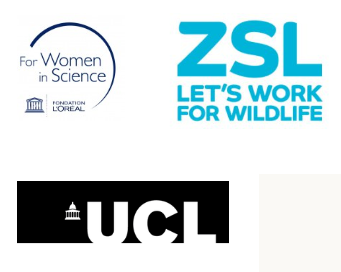 We couldn't run this London event without the generous logistical and financial support of our sponsors. Our London events have been supported from the start by the L'Oreal UNESCO For Women In Science Scheme and the Zoological Society of London. This year's London event is sponsored by UCL
Speaker details
Selected from a competitive pool of researchers, our speakers will be sharing their work in technology, science, medicine and engineering. The speakers and their discussion topics are:
Tuesday 8th September
Giulia Magnarini (@Magna_Giulia), University College London, 'Planetary geomorphologists, the detectives of landscapes: photographing the surface of Mars and the Moon.'
Dr Dani Rabaiotti (@DaniRabaiotti), Zoological Society of London, 'Hot dogs: using technology to unravel climate impacts on the African wild dog'
Dr Lies Zandberg (@zandberglies), Royal Holloway University of London, 'Have I heard that song before?: Finding culture in bird songs'
Dr Stephanie Longet, Public Health England, 'Ebola virus infection: why may the outcome differ between the patients ?'
Wednesday 9th September
Dr Armin Mustafa (@ArminMustafa), University of Surrey, 'Making intelligent machines see what we see'
Dr Cecile Dreiss, King's College London, 'What's in your shampoo? Looking at the molecules that make your everyday life stuff'
Dr Monika Böhm (@MonniKaboom), Zoological Society of London, 'The big, the small, and the scaly: tales from the IUCN Red List of Threatened Species'
Choong Ling Liew-Cain, University College London, 'A galaxy's journey through time'
Thursday 10th September
Dr Michelle Sahai (@menz_mas), University of Roehampton, 'Using computers to study addiction and the brain'
Dr Indrani Roy (@indrroy), University College London, 'Major Modes of Climate Variability'
Professor Andrea Townsend-Nicholson, University College London, 'The Virtual Human – The body double that could improve your health'
Phoebe Griffith ( @crocodiledunphd), Zoological Society of London & University of Oxford, 'Chasing Crocs for Conservation'