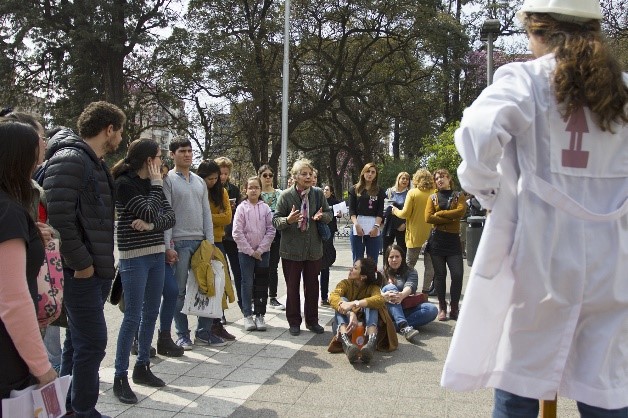 On the 12th of September 2020, 10-13 hr, the pedestrian streets of San Miguel de Tucuman will transform for the second time into a hub of scientific learning and discussion, as some of Tucuman's leading scientists take to their soapboxes to showcase their science to the general public. The event's mission remains the same: to bring science closer to people and to help eliminate gender inequality in science by raising the profile, and challenging the public's view, of women in science. The event is free. If you'd like to see what Soapbox Science looks like in action, have a look at the Soapbox Science 2015 video and our social media.
Facebook: Ciencia sobre la tarima Tucumán
Instagram and Twitter: @soapboxtuc
Sponsors

We are still seeking sponsors so do not hesitate contacting us under soapbox.tucuman@gmail.com.
Details of the location and timing of the event

Date: Saturday 12th September 2020
Location: Pedestrian streets of San Miguel de Tucumán
Time: 10 am-1 pm
Speakers
Selected from a competitive pool of researchers, our 12 speakers will be sharing their work in technology, science, medicine and engineering. The speakers and their discussion topics are:
Ana Eugenia Acosta Nagle, Facultad de Ciencias Naturales e I.M.L (UNT) – Instituto Superior de Correlación Geológica (CONICET-UNT) "Un viaje al interior de nuestro planeta: La corteza terrestre"
Dr Natalia Czytajlo, Observatorio de Fenómenos Urbanos y Territoriales – Facultad de Arquitectura y Urbanismo (UNT) "¿Nuestra ciudad nos cuida? ¿Nos permite cuidarnos y cuidar a lxs demás? Desafíos para Tucumán"
Dr Romina Elisa D'Almeida, Laboratorio de Biología de las Infecciones (UNT- INSIBIO)- Facultad de Medicina (Orientación Genética y Laboratorio Central de Ciencias Básicas) "¡Diminuto, pero un gran héroe!"
Dr María Elisa Fanjul, Instituto de Vertebrados, Fundación Miguel Lillo- Facultad de Ciencias Naturales e I.M.L (UNT) "¿Saben qué hacen muchas aves para pasar el invierno? Las bandadas mixtas de aves en las Yungas"  

Dr Ana Garay, Instituto de Estudios para el Desarrollo Social (FHCSyS/UNSE – CONICET) "Habitar el campo"
 
Dr María de Lourdes Gultemirian, Instituto de Biodiversidad Neotropical (CONICET-UNT)"¡Aprendamos diferentes maneras de cuidar el agua! Así haremos un gran aporte al cuidado del medio ambiente"
Victoria Isasmendi, Instituto de Arqueología y Museo, Facultad de Ciencias Naturales e I.M.L – Grupo de investigación en historia de mujeres, género y sexualidades"Las arqueólogas que buscamos a nuestras ancestras. Arqueología feminista y una mirada distinta sobre el pasado"  
Dr María Macarena Moreno Ruiz Holgado (@MacarenaMrh), Facultad de Ciencias Naturales e I.M.L. – Unidad Ejecutora Lillo (CONICET) "Cromosomas: los pendrives de los seres vivos"
Dr Sofía Nanni, Instituto de Ecología Regional (CONICET-UNT)"Pumas, pecaríes y osos hormigueros en el fondo de la casa. Del conflicto (o la indiferencia) a la coexistencia"
Maria Virginia Niederle (@VirNied), Instituto Superior de Investigaciones Biológicas (CONICET-UNT) "Bacterias benéficas para proteger a los anfibios"
Dr Martha Susana Nuñez, Centro de Referencia para Lactobacilos (CONICET) "Productos lácteos con probióticos específicos"
Dr Denisse Oliszewski, Instituto de Investigaciones sobre el lenguaje y la cultura (UNT – CONICET)- CIIDEPT – Ministerio de Educación de Tucumán "Problemáticas culturales en el tratamiento de enfermedades crónicas en la infancia y posibles caminos para su abordaje"
Discover our 2020 speakers: