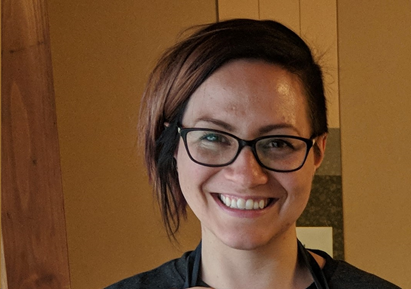 Kaylen Pfisterer, a PhD Candidate at the Vision and Image Processing Lab at the University of Waterloo will be taking part in Soapbox Science Waterloo on June 9th with the talk "Take chances, make a difference, and get curious! My learning adventure and building "smart" technology to help prevent malnutrition"
SS: How did you get to your current position?
Through a windy-path, lots of tenacity, and with an incredibly supportive team propelling me onward. I completed my undergraduate degree in Honours Biomedical Sciences in the Faculty of Science with minors in Biology and Psychology at the University of Waterloo (UWaterloo). Here, I gained a solid background in the natural and social sciences. However, my adverse reaction to blood and needles left me yearning for a way to impact the world around me outside the medical field.
During my undergrad, after losing a lot of my oomph and had difficulty studying, I found out that I was vitamin B12 deficient. My quality of life improved drastically after I got my levels back up. While this may seem random, it's extremely important to the next chapters of my life. After my undergrad, I became the Assistant Research Coordinator at the Schlegel-UW Research Institute for Aging. I also heard Professor Heather Keller (Schlegel Research Chair in Nutrition and Aging) talk about the importance of micronutrients, including vitamin B12, for maintaining older adults' quality of life and independence. I spent some time thinking more about this, and approached the late Mike Sharratt (the RIA president at the time) who was a life-long learner. He was intrigued by this idea especially since he had experienced the importance of B12 through one of his close friends. Mike was a strong advocate for me; his strong support and hearing Heather speak for the first time inspired me to modify my career course and return to study with her at UWaterloo.
Working with Heather was the first time I truly felt capable at acquiring a diverse set of skills that I missed out on during my undergrad. It turns out that this is a feeling with which I would soon become quite familiar. Before working with Heather, my experience with research was that of a classic undergrad lab environment and here I learned an immense amount! However, when I thought about what that might look like for the next thirty years… wearing a lab coat all the time, with hands smelling of the powder inside of nitrile gloves, wearing fogged-up safety goggles, the smell of well-grown bacterial colonies… it just didn't quite make my heart sing. With Heather, I learned a lot about statistical methods and how to plan a good research study for conducting applied research. I learned how to blend quantitative numbers with qualitative context. More than anything, I learned how nutrition research is typically conducted and saw numerous opportunities… if only we had better tools.
Concurrently, my best friend (husband now, fiancé at the time) was completing his PhD in Systems Design Engineering at UWaterloo after continuing from his masters in the Vision and Image Processing Lab there and after an undergrad in Software Engineering. Through his experience, I was fortunate to have been exposed to his world throughout my academic career. It really helped me to see potential beyond what is. That was a two-way street – I helped him to focus on the "so-what" of engineering as a beacon to focus on and work towards which is in his case, building touch-free light-based devices to measure human health…basically, he builds tricorders. Together we had a beautiful research dance at the intersection of our two fields where we could both contribute in complementary ways.
I couldn't get the thought out of my head of having better tools for Heather and the nutrition community to more accurately and reliably measure food intake because, as Heather so wisely asked me one day, "what is the point of building the most nutritious foods if people don't eat them?" That's not to say, there isn't a huge opportunity for building better foods (and she works on this too), but step one is let's see what people are eating and how much, so we can determine what they need. I kept discussing this with my best friend and quickly realized that, if I wanted to see these tools be made, I had better be the one to make them. So, I spoke with one of my husband's co-supervisors about what I wanted to do. Professor Alex Wong had already coached me on my successful NSERC application so thankfully he had a taste for how I work through problems and was quite keen on exploring this with me.
So, for the past three years, I've been in Systems Design Engineering, working with my supervisor, Alex on building my AFINI-T system (Automated Food Imaging and Nutrient Intake Technology). I'm not going to lie, it was a TERRIFYING transition but armed with a clear vision and wonderfully empowering support system, I've been playing in this sandbox without a single regret. Heather is on my committee, so it's wonderful to continue our discussions and have her as a sanity check to help ensure what I'm building makes sense. Alex has helped me push myself beyond anything I ever thought I was capable of with encouragement and affirmations to what I do well. My husband… well I simply couldn't be where I am without him (or him without me)… especially with my constantly playing catch-up technically – his support and our collaboration continues to help me be my best self.
SS: What, or who, inspired you to get a career in science?
As a young child, Ms. Frizzle and Bill Nye were my heroes. In all that I do, I seek to pay the same inspiration forward by celebrating curiosity and learning in an environment that is safe to "take chances, make mistakes, and get messy". My real-life hero inspiration was definitely my dad. My dad is a physics major and teacher who sees the world through that lens, and I love him for it. My father-daughter bonding activities were amazing, full of learning and probing how things work. Whether it was about creating super-saturated solutions to make our own rock candy (totally failed experiment by the way), use prisms to make our own rainbows, cooling our car down in the most efficient way on a hot-summer day, build rollercoasters for marbles and try not to get them stuck midway, play with electric cars and try to not fly off the track, playing with circuits to make our own traffic lights, focusing light with a magnifying glass to inscribe wood, building safe snow-palaces to play in, or building a motor with of a test-tube and ball-point pen… we had a lot of fun playing together. I learned a great deal about how to be curious, how to problem solve, how to fail without feeling like a failure all without realizing this was happening to me. In elementary school, I also had a really great homeroom/math teacher, Ms. Betty Bouw. I remember her short red hair, her big warm smile, her clear expectations, and her encouragement. She gave me the most important gift a learning mind can receive. She made me feel capable and confident to share my questions and ideas… and that my perspective had value.
SS: What is the most fascinating aspect of your research/work?
One of the things I love most about doing computational nutrient sensing and analysis is that I get to be involved with every phase of research and I have the privilege of being the glue between several different fields. I get to build new technology and cobble together different equipment. I get to learn how to program the computer to do what I want. I get to play around with food and learn how different wavelengths of light impact what we can infer about the nutrient content. I also get to work with people, such as dietitians and personal support workers, to get their input into how this technology should work to track older adults' food intake in long-term care homes and to help them do their jobs more effectively. For me bringing this work to life with so many perspectives, breaking down silos, and making something unique together is the most fulfilling way for me to invest my time and energy. I just get to play all day long.
SS: What attracted you to Soapbox Science in the first place?
I believe in the need to break down silos and enhance accessibility of science and engineering. This Soapbox Science speaker opportunity brings together many of my passions; I am delighted to have this opportunity to share my enthusiasm for women in science within this venue. There is something so invigorating about evoking excitement in others – especially when it crosses boundaries and includes our next generation of curious minds. I wish to spark the same excitement for science and engineering as Ms. Frizzle did for me.
SS: Sum up in one word your expectations for the day
Celebration.
SS: If you could change one thing about the scientific culture right now, what would it be?
Breaking down stigma and barriers that some people are better suited for science than others; being in science does NOT mean you aren't artistic, creative, compassionate, and inclusive. Respecting many perspectives helps us be better scientists, artists, teachers, and learners. What I love most about science is that it is something innately part of being human. We literally are all born explorers, constantly learning and interacting with so much of this world that is new to us, and processing what our senses tell us. Regardless of the backgrounds we come from, or our hobbies, this curiosity is the fabric which bonds us all. While some people call it science, distilled down to its core, it's about being curious; asking questions, and seeking to understand something, anything, our hearts dare us to explore.
SS: What would be your top recommendation to a woman studying for a PhD and considering pursuing a career in academia?
(1) Find awesome mentors you jive with. (2) Be purposeful with your work and know what drives you to be there. (3) Follow your passions. (4) Strive for excellence. (5) Be an ally and advocate for those you see as excellent. (6) Surround yourself with peers who you feel you can be authentically you; they will help you find courage to take risks on your learning journey. (7) Ask questions and don't apologize if you don't know something; we all have to start somewhere – use it as a learning opportunity. (8) Get comfortable with sometimes feeling uncomfortable; this usually means you have a different perspective that can add to the discussion. (9) Be kind to yourself; some days will be better than others. (10) Productivity takes many forms; be creative with how you represent yourself.