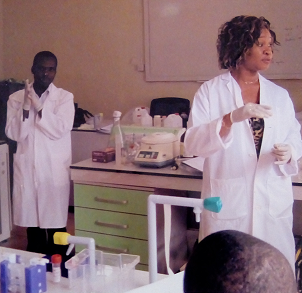 Prof Ifeoma Maureen Ezeonu, University of Nigeria, Nsukka, is taking part in Soapbox Science Lagos on 23rd November with the talk:  "Bacteria: Friend, Foe or Both?" 
I am a Professor of Medical Microbiology and Molecular Genetics with the Department of Microbiology, University of Nigeria, Nsukka (UNN). My route to this included a B.Sc. in Microbiology from the University of Nigeria, Nsukka in 1987 and an M.Sc. and PhD in Microbiology from Georgia State University, Atlanta, Georgia, U.S.A., in 1991 and 1994, respectively. After which I joined the University of Nigeria, as a Lecturer I in June 2000 and rose to the rank of Professor in October 2010. My research interests include studies in medical microbiology and medical biotechnology, and I am the coordinator of the drug-resistant infections research group in UNN.
I eat Microbiology,
I breathe Microbiology,
I speak Microbiology.
What do I mean? I love Microbiology, but this love story is an improbable one. Who knew?
In my secondary school days, in the early 1980s, many schools didn't have guidance counsellors. Even when they had, the counsellors did not know much about what they were expected to do, especially in the area of academic counselling. They were supposed to help students with their career choices, among other things. Well, guess what? In those days, career choices appeared to be pretty limited. If you were an art student, then you were supposed to be a lawyer; and if you were a science student, it was medicine or engineering, with pharmacy coming in a distant third. Then, if you did not get admission to these courses of study, you went into other less popular courses like microbiology, biochemistry and zoology. Students often studied for at least one year, while waiting to get accepted on the more popular courses. I also got accepted into one of the less popular courses – Microbiology, although, I had every intention of changing to Pharmacy after my first year.
My journey into the world of microbes had begun and what a fascinating journey it turned out to be. From the first introductory course, I wanted to know more. By the end of the first year in the programme, I was asking, "Pharma—what?" By the time I was in my third year, my mother had playfully banned me from practising microbiology in her kitchen as everything that was done at home evoked a microbiology lecture from me.
Four years of undergraduate studies led to another two years for a Master's degree and another three years for a PhD, all in the fascinating and awesome world of microbes. Then came years and years of research, to become a Professor of Microbiology. I have loved every step of this journey and I am still loving it. That is why I never hesitate to invite other people to come and explore this exciting world. And that's my love story!