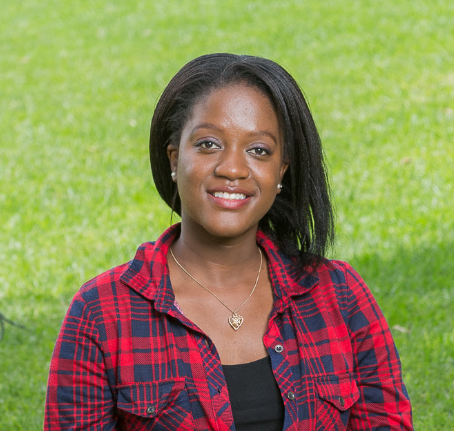 Vimbaishe Chibanga is a final year PhD candidate at the Institute for Glycomics at Griffith University in Gold Coast, Australia. She is a biochemist and virologist studying the mechanisms by which human parainfluenza viruses bind to the sugar on our cells in order to infect us. She has expertise in protein biochemistry, enjoys science communication and is currently involved with multiple school STEM outreach programmes.
Vimbaishe spoke at the first edition of Soapbox Science in Gold Coast on the 17th of August 2019!
Follow Vimbaishe on Twitter: @VimbaisheC
Find your passion, talk about it and make it happen
by Vimbaishe Chibanga
Why am I a scientist?
I love biology! I am fascinated by the human body and have been eager to understand it since I started learning science. Hence, I pursued an undergraduate degree with majors in biochemistry and human anatomy and physiology. There are many pathogens which cause human diseases. Thus, it is vital for scientists to understand how these pathogens infect us in order to develop effective treatments. Currently, I am studying the mechanisms by which human parainfluenza viruses bind to the sugar on our cells. These viruses are the second leading cause of chest infections in infants and infect up to 80% of children less than five years old. Human parainfluenza viruses have been around for more than 60 years but, there are currently no licensed drugs or vaccines to treat infected individuals. My PhD research is contributing towards solving this problem. We need a cure!
Standing on the soapbox for the first time!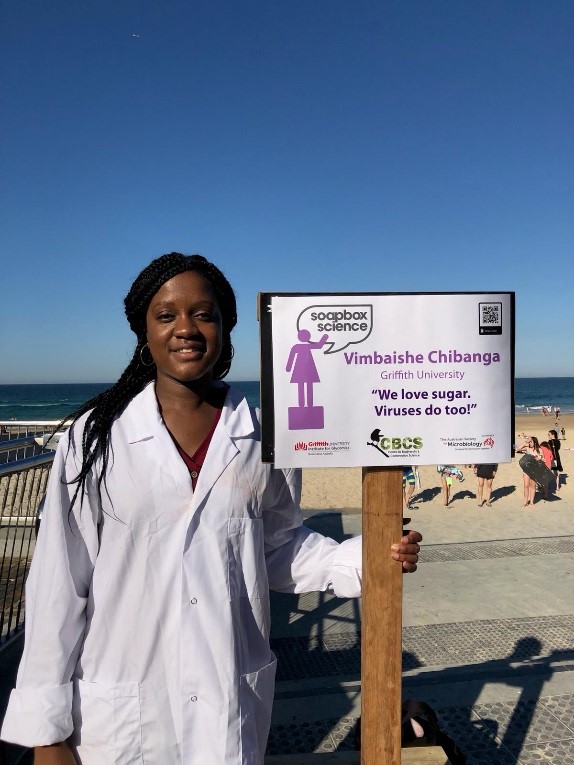 Thought-provoking and audacious. These are the two best words that summarise my experience.
Thought-provoking: It's the simple things in life that matter, including the simple questions! Although STEM teaches us to think critically and solve complex problems, we should not forget the answers to the simple questions of life. "What is parainfluenza virus? Is it the same as the flu? How do I get infected? Does washing my hands prevent infection? Can eating sugar make parainfluenza viruses infect me more?" These are some of the simple questions that I had to answer, that I admittedly do not think about daily. Effective public engagement requires stepping outside of the 'complicated scientific jargon' box and conveying your message in a simple and easy to understand way. After all, scientific research is not reserved for the scientific journals and experts but, for the education of the community. Beyond the laboratory, science is for the enrichment of the people!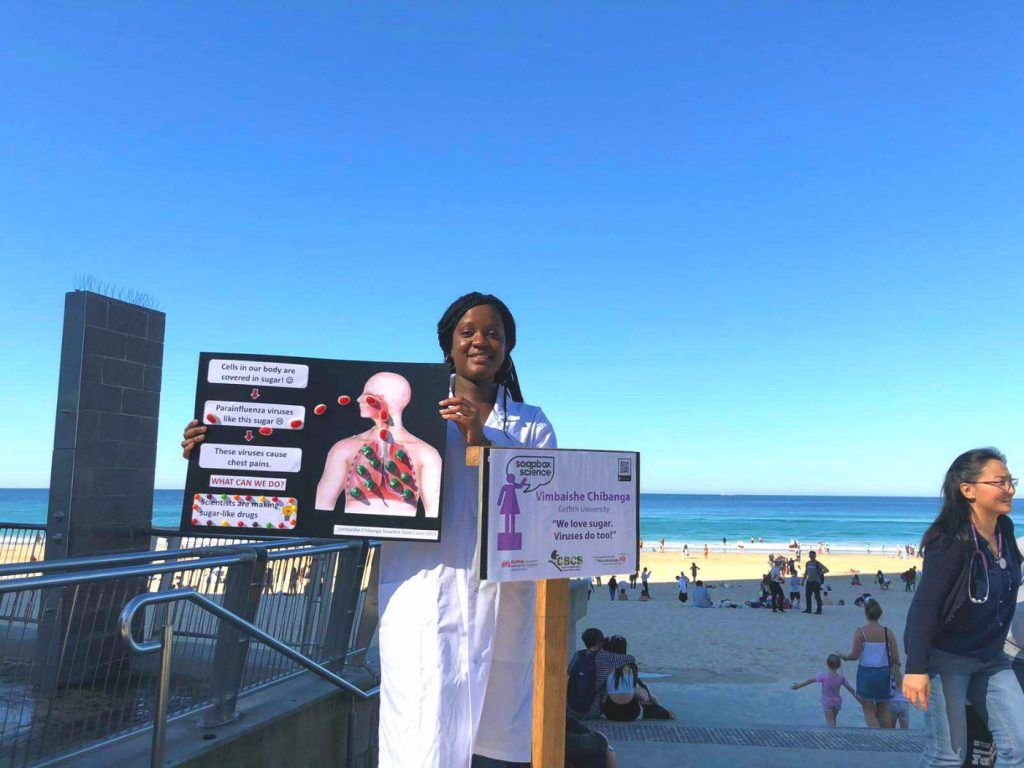 Audacious: Health science discoveries have potentially long-lasting emotional effects. One audience member bravely spoke about the loss of a child from pneumonia induced by a human parainfluenza virus infection. Another shared their late-night emergency room experiences with a hospitalised infant suffering from parainfluenza infection. Reading case studies about sickness and death in journals is very different to hearing someone's firsthand teary-eyed experience. This was a solemn reminder to me and other scientists that the work we do (irrespective of the research field) has the ability to change lives and potentially save lives. We need more audacious scientists. We need more female scientists who are willing to follow their passion in order to effect change. Our scientific research matters!
Changing the status quo: STEM women are role models
We need to change the status quo. Women are just as brilliant, intelligent and capable as their male counterparts. Anyone and everyone can be a scientist. Science is a way a of thinking that is not defined by a person's race, gender or country of origin. Female scientists need to support each other and inspire the next generation of young thinkers. If we are not visible to society, how can we change the traditional "Einstein" status quo? Let us confidently step into society and share our knowledge. Find your passion, talk about it and make it happen. In the famous words of Mahatma Gandhi, "Be the change you wish to see in the world." Soapbox Science is one of many platforms that allow us to inspire the next generation of scientists. I would gladly participate again and encourage all female scientists to be involved!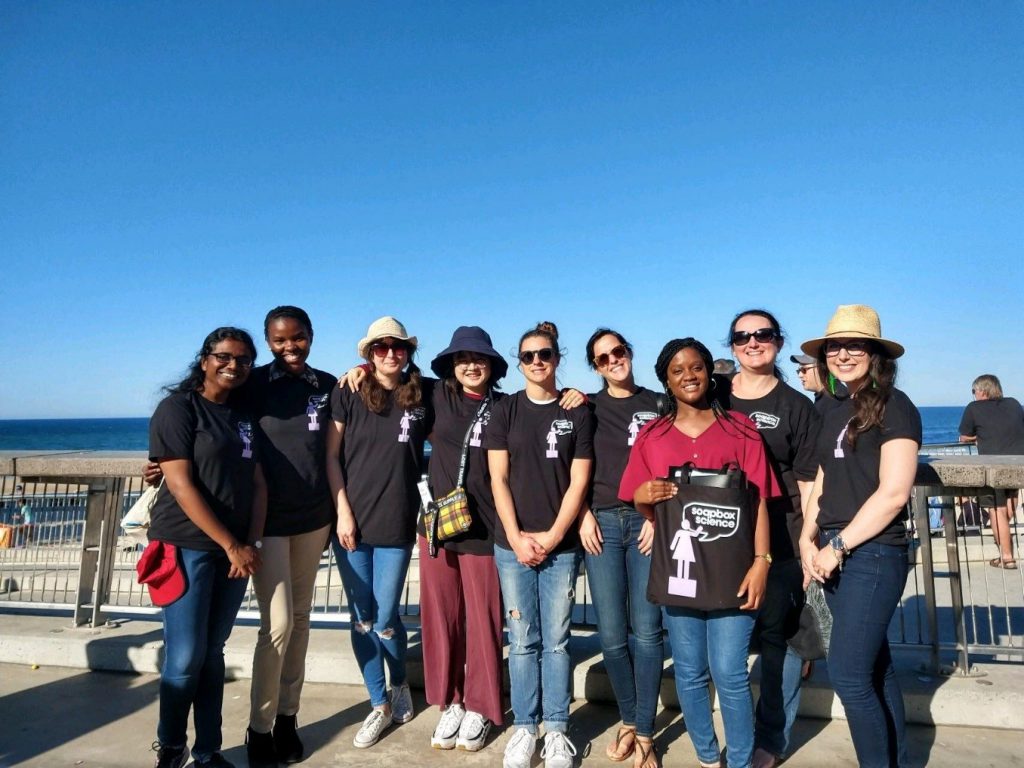 Vimbaishe (wearing a red shirt) standing with some of the amazing female scientists from the Institute for Glycomics who supported Soapbox Science Gold Coast 2019. Many thanks to the organisers of Soapbox Science Gold Coast 2019 and the volunteers who brightened up the day.