Egbedi Brakemi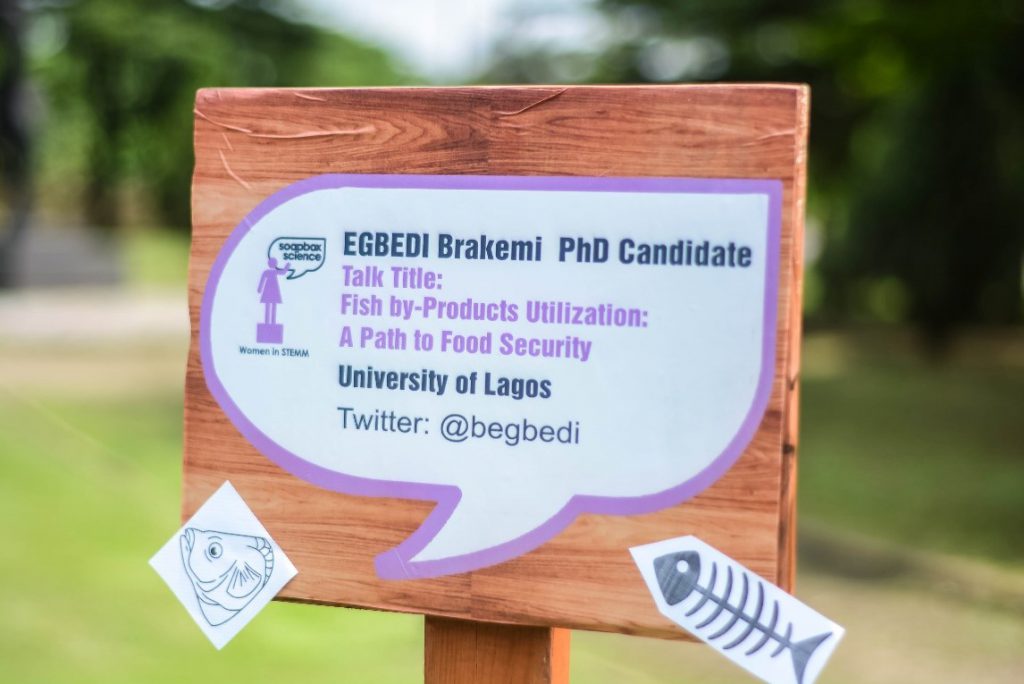 Being shortlisted for the 1st ever Soapbox Science event in Nigeria, was the beginning of my #soapboxlagos journey. August 22nd seemed very far yet as the days flew past, I realized I did not have all the time in the world to prepare for my presentation.
The most difficult aspect of this wonderful task I had was preparing for my presentation. I didn't know who my audience would be nor the questions to expect from them. To me, this meant reading almost anything I could lay my hands on. After studying for heaven knows how long, I decided to make a mock presentation in front of my colleagues: Preciou Aluta and Dr. A. Z. Aderolu. Through their constructive criticisms, I realized I wasn't communicating as I ought, to my intended audience. Through their help, I was able to simplify my presentation such that even a child could understand it.
GETTING THE PROPS
The second challenge I had to overcome was deciding on the props to use for my presentation. I wanted props that were easy to make and props which on looking at, would embody the scope of my presentation. I finally came up with something simple which the audience loved.
THE PRESENTATION
When I started the presentation, there were few people present. This made me a bit disappointed but I didn't let that deter me. In the middle of my presentation, more people started trooping in and I found myself going over the presentation several times in a span of an hour! I was glad to see how interested people were in the topic.
THE QUESTIONS
The audience asked a lot of questions and this made me happy because it confirmed that they actually listened to my entire presentation. It also made me realize how interested they were about my research topic. Most were interested in learning how to actually utilize fish by-products for economic as well as nutritional gain. The questions the audience raised made me realize how interested people are in knowing what we scientists are always up to.
THE FEEDBACK
I was thrilled to hear them reiterate what they had learnt during my presentation. Through the props, they were to use the hash-tags provided to support the sustainable use of fish by-products. I was moved to see their various comments on the different images provided them. All who stopped by to hear me speak were convinced of the need to utilize by-products and wrote in favour of the #zero waste and #end hunger hash-tags among others.
WILL I WANT TO DO IT AGAIN???
Yes, I would love to speak at a Soapbox Science event and probably join others in organizing one at any location close to me. It boosted my confidence as a researcher and as a speaker.
Thank you Soapbox Lagos for this experience; It was worthwhile!
Deborah Aluh
The Soapbox event was an amazing experience which gave me the opportunity to share the research I have been doing overtime with the public. My talk was titled 'Unmasking the silent killer'. I talked about depression, ways to detect it, and seek for help. I got a lot of ideas from the audience on the possible causes of the rising incidence of depression in Nigeria. It was also an opportunity to show people how good female scientists can be and debunk the negative stereotypes about women in science. I also got to network with other female scientists especially Miss Brakemi Egbedi with whom I now communicate with regularly.
Barr. Kemi Omodanisi (Mrs)
As a pioneer event which availed women in science the opportunity to relate their areas of interest, passion and experiences with members of the community, Soapbox Science to me is an innovative programme in Nigeria which should continue in perpetuity. It was well organized, timely managed with good resource persons who were able to engage the audience bearing their experiences in the simplest, comprehensible way.
Soapbox Science not only granted free access to members of the community to listen to vital topics that bothers on their daily activities, but also gave them the opportunity to engage the discussants, probe and receive clarifications on cogent issues raised by them. The serene, open and lovely environment makes this more admirable as well as the rich content of the discussants. Comments and expressions from members of the audience show their satisfaction of the programme.
Akinyemi Esther Ifeoluwa
Great event bringing science closer to people. It will encourage women and girls to pursue a career in science.
I sincerely appreciate the founders and organizers of Soapbox Science for giving women another route of EXISTING. I am indeed excited to be part of this year's programme. I look forward to the continued enjoyment of my existence in the scientific world, through participation in the Soapbox Science Lagos August session.
Surv. (Mrs.) Funmilola Ogunlade
It was a great experience organizing the soapbox science event for the first time in Lagos where I met very intelligent soapbox science speakers. I had a field day with so many interesting discussions on various topics. Personally, I think it was a very successful event.