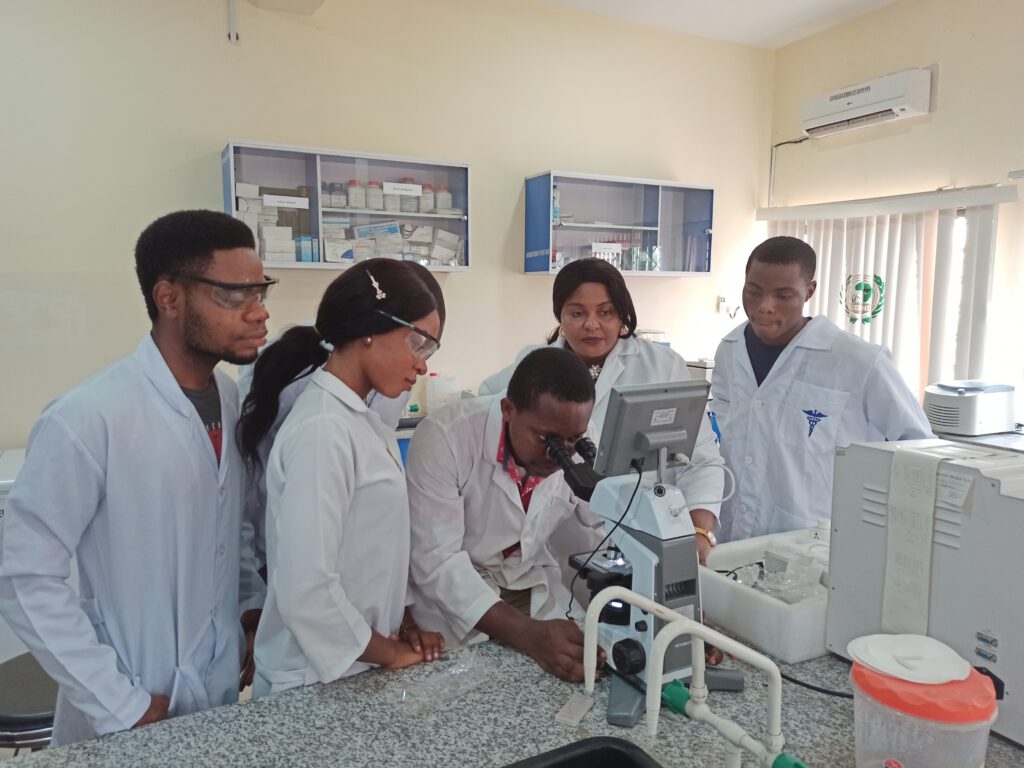 My name is Akhere Omonkhua and I teach Medical Biochemistry at the University of Benin, Nigeria. My major research focus is Medicinal Plant/Natural Products research.
At the Soapbox Lagos November 2021 event, I spoke on the topic "Can medicinal plants be used to treat diabetes?".
I have always been fascinated by science and since I have always done well at school, my parents and teachers expected me to become a medical doctor. For a long time, I accepted this as a future career goal; it was only when I grew older that I realized I preferred core research to clinical practice.
I think what really ignited my love for science was my secondary school Chemistry teacher, Mr. O. T. Jonah. At Organic Chemistry class, I was totally awe-struck that science could explain so many phenomena; this fed my very inquisitive mind and opened up the possibility of research as a career option. Of course there were many discouragements along the way; surprisingly, mostly from other female students who felt science was a man's career. This did not deter me; I have always had a stubborn streak, I become highly motivated and challenged when people tell me something is too hard to accomplish, either as a person or a woman. I love proving them wrong!
The first few classes I took in Biochemistry got me hooked on the course. Biochemistry is a very interesting science; in my opinion, it is the science that comes closest to explaining the phenomenon of life itself. Its ability to explain very complex life processes at the molecular level, whether it is a disease condition or the digestion, absorption, and utilization of food, is truly amazing!
I have been fortunate to have many wonderful teachers and mentors. My Masters and doctoral supervisors, Profs. Frederick O. Obi and Iyere O. Onoagbe respectively, were crucial in building my foundation of research. They both taught me, especially by their example, the integrity of research and how it should never be compromised. A few years after obtaining a PhD, I was fortunate to be mentored by Prof. Friday Okonofua, a renowned clinician and scientist, who nurtured my drive for research excellence. I have also been very fortunate to work with excellent collaborators and students who have reinforced my love for science and science education.
One of the most fascinating aspects of my research is to see how my findings are revealing previously unknown aspects of how the medicinal plants that I study can have multiple positive effects in preventing or reducing the negative effects of experimental diabetes and the long-term complications associated with it. These positive effects are seen both at the level of the biochemical parameters we assess and also at the level of gene expression i.e. how the administration of these plants can help change the genes expressed by experimental animals to favour their ability to treat diabetes. If this is established as a concrete mechanism of action, it could have huge positive implications for human diabetes.
I actually first heard of Soapbox Science from a friend in the UK in early 2021. One of the things that got my attention was knowing that this is a group of female scientists explaining their research to a diverse audience. I think young people are exposed to a lot of information. The way scientists normally explain their research, the jargon and all, can alienate young people. Being able to speak in simple language and demystify science can play an important role in rousing the interests of young persons in taking up a career in science. Over the last few years, I have become more committed to mentoring junior academics and it is a beauty to see how they blossom because someone believes in them and shares with them the tools to excel. I think being a speaker in a Soapbox Science event would broaden my ability to reach more people and hopefully contribute positively to helping them choose a career in STEMM.
One thing about the scientific culture of Nigeria that I would change if I could is the way scientists are trained. Our training can be overly didactic and sometimes even oppressive. This is capable of killing the zeal of emerging scientists. I believe mentoring should become more integrated in scientific training in Africa. Countless studies show that mentoring is a key ingredient for research excellence.
My advice to young people is this: whoever you are, whether a woman or a man, if you want to take up a career in research and study for a PhD; do not let anyone discourage you! Find what you love and build your research career around it! Tell yourself that if others have done it, you can do it as well. You may be pleasantly surprised to realize that it is even possible for you to be the first to accomplish a particular feat. I also encourage you to find a good mentor and allow them to guide you appropriately.
As someone said recently, the sky is just the beginning!