Soapbox Science returns to Bristol for another day of free scientific discovery! 
 This summer, on the 13th July between 12pm – 3pm, Broadmead will be transformed into a platform for scientific discussion and debate. Come along and meet real scientists in your community and listen to the cutting edge research they are working on; from camouflage in animals to growing red blood cells in the lab. Twelve women in STEM (Science, Technology, Engineering and Maths) will be informally discussing their research across the three hours. Join in the fun by asking them questions and taking part in activities, practical demonstrations and debates. 
Meet the Soapbox Science 2019 Bristol local organising team. 
Details of the location and timing of the event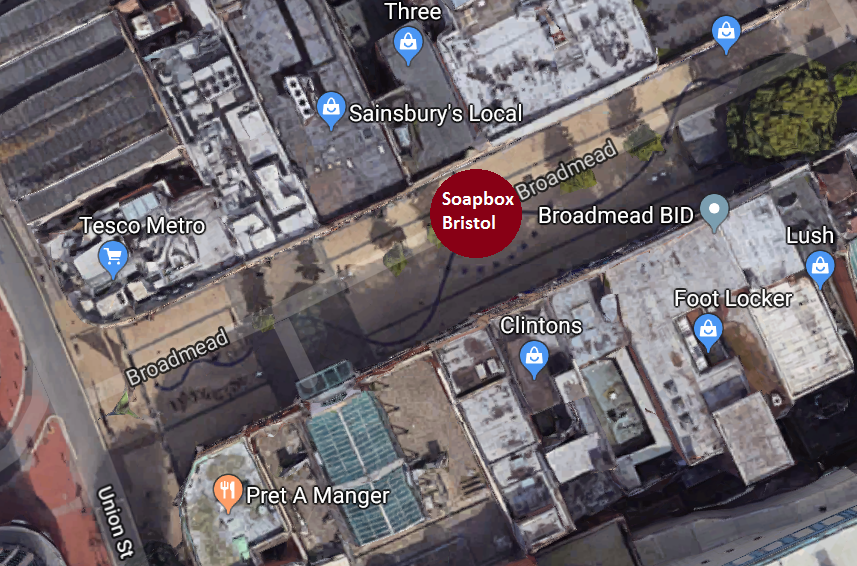 Date: 13th July 2019
Time: 12pm – 3pm 
Location: Broadmead (Between the blue orb bollards outside M&S, see map below)
Sponsors
Our thanks go to the University of Bristol as the host institution for the Soapbox Science Bristol. Our thanks also go to the School of Physics and Widening Participation from the University of Bristol for providing financial support to help us bring our fantastic researchers to the public.
Speakers
Anneka Mitchell (@anneka_mitchell), University of Bath and University Hospital Southampton  "Blood thinners for older people–are the new ones better?"
Dr Camilla Cerutti (@ccamilla81) "Location, location, location: when CANCER spread and relocate, we've got a deadly problem-METASTASIS!"
Dr Chantelle Wiseman (@chantellewise1), University of Bristol "Understanding risk factors in childhood for PTSD"
Daisy Gaunt (@DaisyGaunt), University of Bristol "Designing experiments to make us healthier"
Dr Hana Mlcochova University of Oxford "What if things go wrong"
Dr Hazel Hall-Roberts (@HazelLRoberts), University of Oxford "Gardening microglia at the core of dementi"
Jannete Stevens, (@mexjash) University of Bristol "Making blood in the lab"
Dr. Karin Kjernsmo (@KarinKjernsmo), University of Bristol "Iridescence as Camouflage"
Reham Aljalamdeh (@RehamSaleem8) University of Bath "Antibiotic particles for lung infections, are the smaller particles more effective?"
Dr Stephanie MacNeill (@sjmacneill), University of Bristol "Yeah, but how different are they really??"
Discover our 2019 speakers:
[print_gllr id=7185]