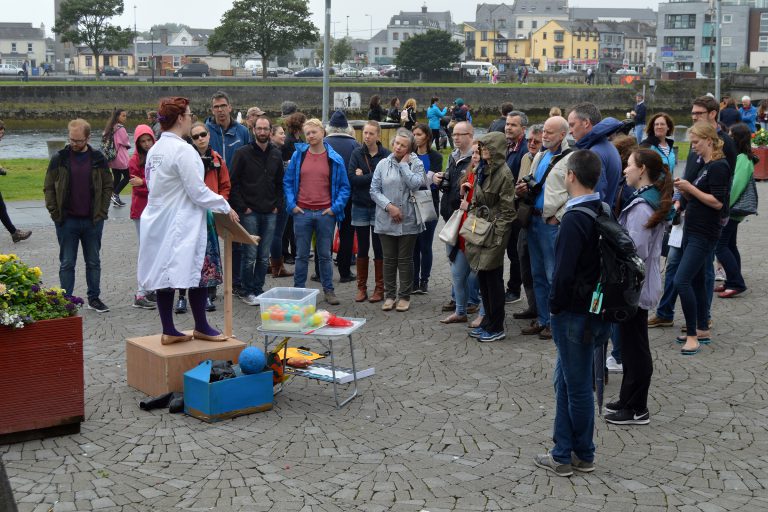 This year Soapbox Science is taking place in three locations around Ireland….including Galway! Scientists will be taking to their soapboxes to speak about their research on Saturday June 29th at the Spanish Arch in Galway City Centre. We're delighted to be bringing a new cohort of amazing STEMM speakers to the public at our third Galway event, showcasing the best of the West of Ireland. Come along and join us! Soapbox Science Galway is being organised by Jessamyn Fairfield (National University of Ireland Galway) and Dara Stanley (University College Dublin).
Meet the Soapbox Science Galway local organising team.
Sponsors
We couldn't run this event without the generous logistical and financial support of our sponsors. Our Galway event is supported by NUI Galway Office of the Vice President for Research.
Details of the location and timing of the event
Date: Saturday June 29th
Time: 12pm-3pm
Location: Spanish Arch, Galway
Speakers
Selected from a competitive pool of researchers, our 12 speakers will be sharing their work in technology, science, medicine and engineering. The speakers and their discussion topics are:
Dr Dara M Cannon (@daracannon), NUI Galway "The Brain You Are"
Dr Eimear Dolan (@eimearbdolan), NUI Galway "Designing Medical Devices of the Future"
Dr Nicola Fitz-Simon (@NicolaFitz), NUI Galway "Statistical thinking for real-life questions"
Ms. Ann O'Brien (@anncarlowgirl), Trial Methodology Research Network "Better Together – 'The People's Trial' and the Internet as a Force for Good"
Ms. Allison Bistline-East (@ABEentomology), NUI Galway "Slimy yet satisfying: Enhancing farming using insects"
Dr. Sarah Brennan (@stabrennan), NUI Galway "The Marvels of Human Milk"
Ms. Catherine Jordan (@jorrrdy), Marine Institute / NUIG "Monitoring our Oceans from Space!"
Ms. Anuja Gadekar (@AnujaRGadekar), CURAM, NUI Galway "Can sugars help in healing a diabetic wound?"
Ms. Devasanthini Devaraj (@DevaSanthini), University College Dublin "Natural Gas – The cleaner fossil fuel into the future"
Ms. Michelle Curran (@PalaeoShel), NUI Galway "How past climate can help prepare us for the future"
Dr. Fearon Cassidy (@FearonCassidy), NUI Galway "Stem cells in your bones?!"
Dr. Suzanna Prosser (@SuzPros), NUI Galway and Lunenfeld-Tanenbaum Research Institute, Toronto "How recycling keeps the cells of your body healthy."
Discover our 2019 speakers:
[print_gllr id=6973]