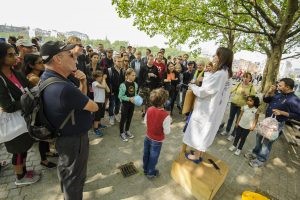 Come and visit Soapbox Science Plymouth on June 1st 2019!! The event is part of Freedom Fields Festival – a truly unique place to hear about science!
The event's mission is to help eliminate gender inequality in science by raising the profile, and challenging the public's view, of women and non-binary people in science. The event is free. If you'd like to see what Soapbox Science looks like in action, have a look at the Soapbox Science 2015 video
Meet the Soapbox Science Plymouth local organising team.
Details of the location and timing of the event
Date:  Saturday 1st June 2019
Address: Freedom Fields Festival, Education Section
Time: TBC
Speakers
Selected from a competitive pool of researchers, our 12 speakers will be sharing their work in technology, science, medicine and engineering. The speakers and their discussion topics are:
Ms Simone Girdham (@S11886040 ), Royal Cornwall Hospitals "How to be a daring, sharing and caring scientist"
Ms Lisa Butt (@LisaButt7), University of Exeter "Phages – How Viruses Can Be Helpful"
Dr Asiya Khan (@AsiyaK14), University of Plymouth "Quality of Experience of multimedia services and Internet of Things"
Mrs Anna Tatkiewicz, University of Plymouth, Langage Farm "Thick, tasty and yummy – how science improves yogurt"
Dr Júlia Baptista  (@JuliaGenetics), Royal Devon and Exeter NHS Foundation Trust and University of Exeter "DNA and how it defines who we are"
Dr Nova Mieszkowska (@MarClim_UK ), Marine Biological Association and University of Liverpool "The marine environment in the anthropocene and how we can all help to address the problems faced by the creatures that live in our seas."
Ms Louisa deDross (@luludedro), Plymouth Marine Laboratory "Green, Infected and Secreting: Are Algae The Future of Natural Beauty?" 
Dr Camille Carroll, University of  Plymouth "What is a clinical research?" 
Dr Val Mann, University of Plymouth "Dementia Care until Cure"
Discover our 2019 speakers:
[print_gllr id=7130]