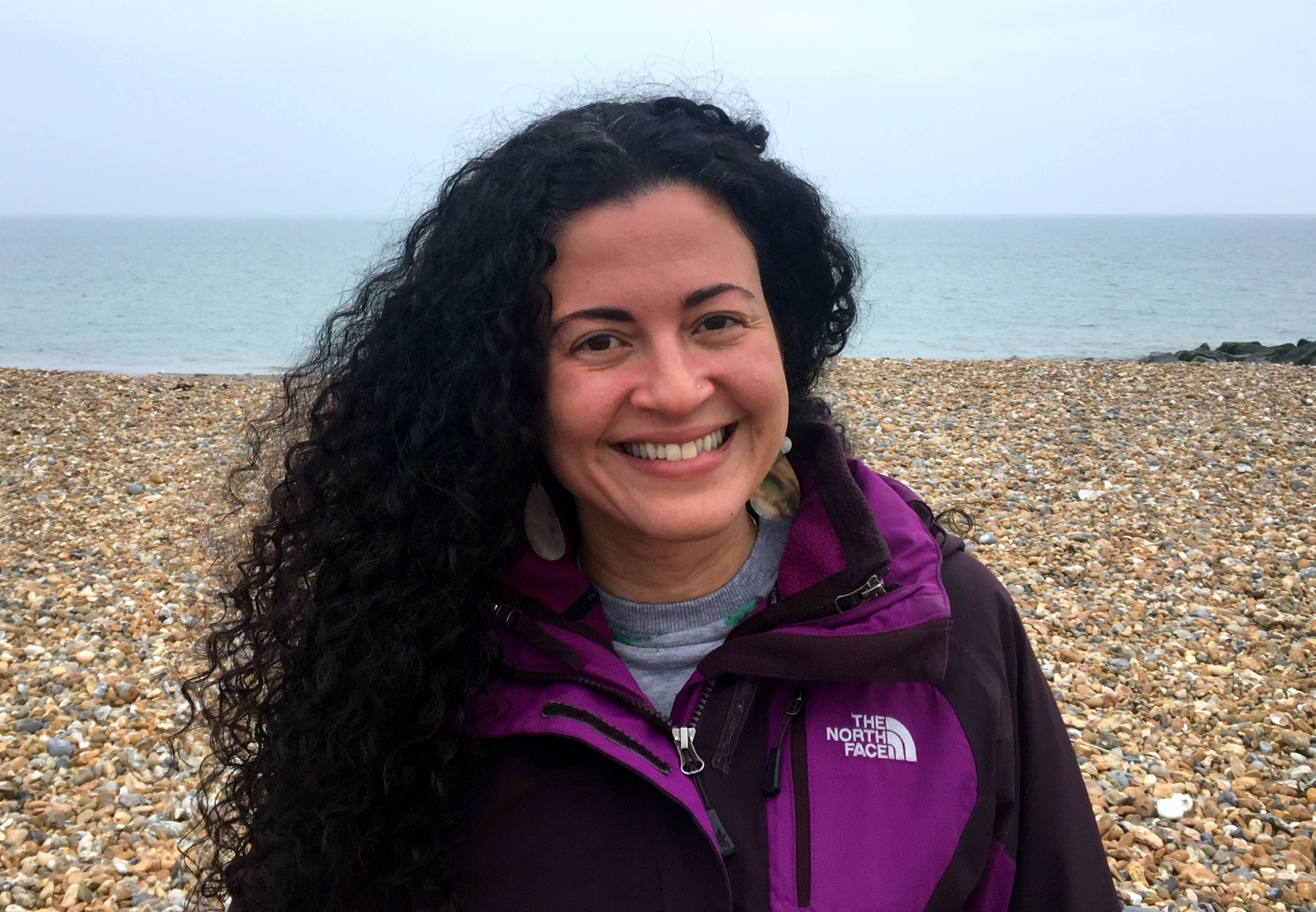 Aline da Silva Cerqueira (@aline_marine), Institute of Zoology of the Zoological Society of London, King's College London and the London NERC DTP, will be taking part in Soapbox Science Brighton on 1st June with the talk: "The sounds seabirds make at sea and why we should listen to them"
SS: What attracted you to Soapbox Science in the first place – and what are you most looking forward to/excited about in taking part?
I'm very excited about attracting people's attention to the work I do and above all, to some of the innovative research methods that are implemented in the field of Conservation Science nowadays. I want to show children and adults the equipment I use to gain a better understanding about seabirds and their environment and how this understanding can help protect them.
I believe that Soapbox Science makes science real, fun and approachable for everyone, which breaks the traditional paradigm of doing science in specialised confined spaces.
I find joy in sharing my knowledge and experiences with people, so who knows if I'll manage to enthuse someone with my talk and they'll want to find out more about marine conservation?
SS: Tell us about your career pathway
When I was still an undergraduate student, I co-founded a marine mammals conservation NGO with colleagues and researchers from my university. It was a pioneering move in this field of research and we all gained invaluable professional experience, even though most of us were still undergraduates! I developed and coordinated this NGO's first environmental education programme geared toward fishing communities, which was an amazing edifying experience for me. It enabled me to discover my passion for education, igniting me into a successful career as a teacher alongside my research.
This NGO (AQUASIS – http://aquasis.org) evolved and grew into a bigger organisation, under which a range of different research projects and conservation programmes were developed for the protection of coastal, marine and terrestrial species and habitats. I'm very proud to have been part of this work and I still collaborate with them in a research programme for the conservation of marine manatees off the coast of Brazil.
For my MSc, I studied the impacts of oil spills on coastal ecosystems. I developed a keen interest in gaining a better understanding of how marine and coastal ecosystems connect. During that time, I also worked for a state environmental bureau in Brazil, where I led their Integrated Coastal Zone Management team for two years, working at the interface of ecological monitoring, policy making, stakeholders and coastal communities' interests. Through this experience I understood that successful nature conservation can only be achieved through the engagement and commitment from communities, stakeholders and authorities.
After completing my MSc degree, I moved to England, where I worked at first as a researcher in academic publishing in London. After that, I worked as an ecology consultant and biology lecturer in Brighton for over 10 years.
In 2011, I had my first child and my life changed completely. I had to figure out how to juggle my career with being a parent. Mind you, I am still trying to learn how to do that!
In 2017, I decided it was the right time for me to pursue my dream to study for a PhD in Conservation Science. I was lucky enough to be offered a place on the London NERC DTP programme, fully funded by the Natural Environment Research Council (NERC UK). I am now a full-time PhD student with King's College London and the Institute of Zoology of the Zoological Society of London, researching acoustic tracking of seabirds at sea.
Being the mother of two young children (5 and 7 years old) at the same time as a full-time student can be very challenging at times. Without the help and support from my husband, supervisors and colleagues, I reckon it would be virtually impossible to do it.
SS: What, or who, inspired you to get a career in science? 
From an early age I already knew that I wanted to become a scientist. I initially wanted to pursue a career in Astronomy. I had some amazing school teachers who were very enthusiastic about the topics they taught, and I found their enthusiasm contagious. During my final year at college, I had a biology teacher who made me fall in love with Biology. She was very knowledgeable, friendly and enthusiastic. She introduced me to the world of the 'living things' in a way that I had never appreciated before. By the end of my last school year, I knew I wanted to study life! Astronomy became a hobby, whilst Biology became my career choice.
SS: What is the most fascinating aspect of your research/work?
To gain an insight into the lives of seabirds when they are far, far away at sea is absolutely fascinating!
I can see from the GPS data, that they are often really in "the middle of nowhere", in the open ocean, out of sight of land. Yet, there is a lot going on around them. I sometimes can hear many other birds in the audio tracks, which may indicate that there are (previously unknown) hotspots for seabird activity in the high seas. These birds may be feeding, socialising or just resting. They make interesting sounds that are often different from those they make when they are at the colonies.
I really love to be able to explore and unveil the seabird soundscapes. The world of sounds is very rich in information and it is great to learn more about it. When I characterise the acoustic information over spatial and time scales, I can then identify patterns that may indicate specific behaviours. This type of information can underpin the creation of mitigating measures for the protection of these remarkable animals.
SS: Research in STEM is increasingly multi-disciplinary. Which subjects do you use in your work?
In addition to seabird physiology, behaviour and ecology, it is fundamental to have a good understanding of marine ecology and conservation, geographic information systems (GIS), acoustic science and marine environmental factors, such as ocean temperature, hydrological processes, variation in productivity and marine management strategies. To make my work possible, Biology, Physics and Environmental Science walk hand in hand
SS: What 3 attributes do you consider important to your work (e.g. creativity, team-work, etc), and why did you pick these?
Creativity – this is possibly one of the most challenging albeit essential attributes for me. It's great to be able to "think outside the box" to create or modify research tools. Different animals have different particularities thus we always have to adapt methods and equipment to work with them. Creativity therefore plays a fundamental role in the execution of my project.
Team-work – from data collection to analysis, it is fundamental to rely on a team. I have had the opportunity to collaborate with some of the best scientists in my field of research. I not only have learned a lot with them, but they have been very generous to share their data sets with me and allowed me to go on fieldtrips to collect more data with them. I believe team work is the spirit of a successful research project.
Organisation – with so much going on in my personal and academic lives, it is vital for me to maintain a good level of organisation! I work with lots of different types of data and have to organise them in long spreadsheets, with at least two data backups. I also have many deadlines and important milestones to meet along my PhD course, as well as to make sure that my children are able to meet theirs. It can be all very confusing, so I try to keep track of everything by having a to-do-list at the beginning of each week and sticking to it.
SS: If you could change one thing about the scientific culture right now, what would it be? 
Science is still somewhat exclusive. It is seen by many as something very complex, difficult to do, to attain and to understand. I would like to make science more popular, not only as a curricular subject, but also as a profession and as a conversation topic.
Science is about questioning, investigating and scrutinising the natural world. There is no absolute truth in science and that's the reason why there's always scope for more investigations and experimentations, and no space at all for conformism.
Along the education system, however, young minds are trained to conform with norms, memorise tons of information so that they can achieve good grades. The problem is that people can think in different ways, may find it difficult to memorise information and/or don't perform very well in exams, tests and other assessments. From my experience as a teacher, I think the performance-driven cultures found at schools and universities cause more harm than good and end up scaring away low-performing students from science. All in all, these have negative effects on how society perceives science.
Science education should foster a positive science culture from primary school education by spurring on the curiosity of young minds, embedding and developing critical thinking across the curricula, and emboldening individuals to question facts and processes. This is an honest and solid approach to science learning and will probably constitute the most important steps in becoming a scientist.
SS: What would be your top recommendation to a female student considering pursuing a career in academia?
They should keep their eyes on their goal!
Science, as a career, continues to change to accommodate and reflect changes in our societies. This is a natural evolution in which we play primary roles. Whoever wants to pursue a career in science should be offered the chance and the means to do so.
Work hard, feed your curiosity and passion with more curiosity and passion, and just go for it!
SS: What words of encouragement would you give to children who might be interested in a career in science?
Being a scientist is probably one of the best ways to keep our minds young and open. There is no stupid question, there is no silly question, there are only questions!
Looking at the world with curiosity gives us the chance to seek and to find innovative ways to change what needs changing, and to create what needs to be created. There is plenty more to be discovered, fixed, created, cured and changed. Science gives us the knowledge and the means to achieve all this.
More than ever our planet needs scientists to make it a better place, a healthier home for all creatures. I hope many children will enlist on this great adventure!