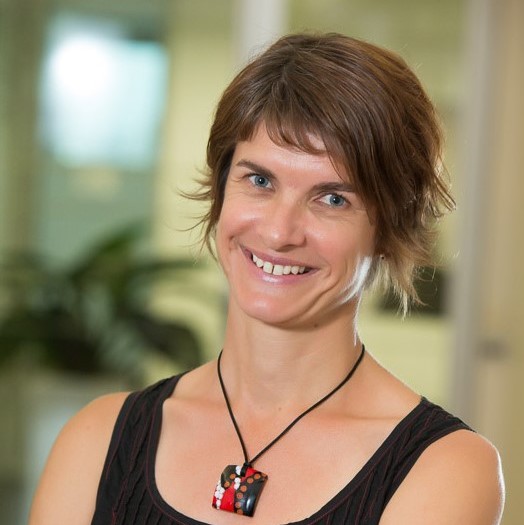 Anne Tiedemann (@AnneTiedemann1), University of Sydney, will be taking part in Soapbox Science Sydney on 10th August with the talk: "Physical activity: the elixir of health and wellbeing"
Soapbox Science: How did you get to your current position?
Since I was a child I have always been fascinated by the human body and how it works. When I finished school I undertook a science degree at University of Wollongong, majoring in exercise science. During my undergraduate degree I was drawn to exploring the role of exercise for the management of disease and in particular for people with conditions such as Parkinson's disease, stroke, heart disease and low back pain. On completion of my degree I worked as an exercise physiologist in a chronic pain rehabilitation clinic where I prescribed exercise for people recovering from a range of issues but mostly neck and low back pain. Through contact with older patients I discovered an interest in working more with that population and particularly in exercise for fall prevention. After about 5 years as an exercise physiologist I changed careers and explored the world of research. In 1999 I managed to get a job as a research assistant at Prince of Wales Medical Research Institute, UNSW (now called Neuroscience Research Australia) under the supervision of Professor Stephen Lord, an internationally recognised expert on falls in older age. After working as a research assistant for a few years running a large RCT of a community-based fall prevention intervention I embarked on a part-time PhD through UNSW. My PhD topic was the development and validation of a fall risk assessment for use in clinical practice. During my PhD candidature I had my first child and then about six years after PhD commencement while pregnant with my second child in 2007 I finally graduated from my PhD. A few years following this in 2009 I commenced an NHMRC Early Career Fellowship under the supervision of Professor Cathie Sherrington and moved to The George Institute, a research institute affiliated with The University of Sydney. My research continued to focus on prevention of falls in older age with more emphasis on exercise-based interventions. In 2016 I was promoted to Associate Professor and commenced an NHMRC Career Development Fellowship focused on physical activity for fall prevention and healthy ageing. I continue to the present day to be working with Professor Cathie Sherrington and we are now part of the Institute for Musculoskeletal Health which is a research partnership between the School of Public Health at the University of Sydney and the Sydney Local Health District.
SS: What, or who, inspired you to get a career in STEMM?
As I mentioned above, my initial interest was human anatomy and physiology and particularly the role that exercise can play in preventing/ treating/ managing health conditions. I was fortunate to grow up as part of a family of active siblings and parents, where playing sport, weekend bushwalks and catching waves at the beach were the norm. I clearly remember as a young child, watching and being amazed by how many laps of a pool my dad could swim! We were also encouraged to be inquisitive and search for answers to our questions, whatever the topic. Education was highly regarded and respected and we were encouraged to pursue our interests, rather than, for example, a high paying career.
SS: What is the most fascinating aspect of your research/work?
Not sure about fascinating, but a highly satisfying aspect of my research is hearing positive feedback from study participants who manage to change their lives through increasing their physical activity, particularly those who have never been active before. It really is life-changing!
SS: What attracted you to Soapbox Science in the first place?
My goal as a researcher has always been to make a real change to the health and wellbeing of society. I take every opportunity I can to talk about my research, despite how terrifying public speaking can sometimes be for me! I am deeply passionate about promoting physical activity for public health benefit and I want to share my knowledge, passion and enthusiasm with others in the hope that it will have an impact.
SS: Sum up in one word your expectations for the day
Challenging
SS: If you could change one thing about the academic/research culture right now, what would it be?
Oh there are many things I would change! One issue is the volume of administrative tasks that academics are required to do because of the disjointed university and government funding systems we work within. If the systems could be streamlined so that multiple forms containing the same information do not have to be repeatedly completed that would be a start! A lot of researcher time and energy is spent on administration tasks that could be more efficiently managed!
SS: What would be your top recommendation to a woman studying for a PhD and considering pursuing a career in academia?
Select an area of research that you are passionate about because that's what will sustain your enthusiasm and motivation over the long term, and invest time and energy in building connections with like-minded people because genuine collaborations with supportive people are really important for success.
SS: Can you sustain a successful career in research working part-time and raising children?
Absolutely! I have worked part-time for the past 14 years since my first child was born and have had plenty of success. I obtained a part-time NHMRC post-doc and am currently funded by a NHMRC Career Development Fellowship. I have been fortunate to be part of a very supportive workplace that offers flexible working conditions and that actively supports the needs of part-time researchers. This has certainly helped me to achieve success and I believe it's crucial if more females are to be encouraged to sustain careers in STEMM.