Soapbox Science Winnipeg 2023 event is back in town! This year Soapbox Science is going to be held in-person at the Oodena Celebration Circle, the Forks on August 12, 2023, from 11:00 am to 2:00 pm. Leading women and non-binary scientists from the city of Winnipeg will converge on soapboxes, creating a vibrant hub of scientific learning and discussion. By providing a platform for these brilliant minds to share their scientific endeavors with the general public, the event aims to dismantle barriers and inspire a more inclusive future for science. This event is free to attend.
If you'd like to see what Soapbox Science looks like in action, you can have a look at our Soapbox Science Winnipeg event page.
"In the heart of Winnipeg, let the voices rise and minds unite as we organize Soapbox Science, for when we empower women in science and provide a platform for their brilliance, we not only elevate our community's knowledge but also cultivate a thriving garden of diversity, innovation, and progress", says Dr. Manisha Ajmani.
Nisha Ajmani is excited to organize this year's Soapbox Science event which will mark a significant milestone as it returns to an in-person format providing an unparalleled platform to celebrate and showcase the exceptional achievements of women in STEM with utmost professionalism and distinction.
Meet the Winnipeg organising team
Event Details
Date: Saturday, 12th of August 2023
Time: 11 a.m. – 2 p.m.
Location: Oodena Celebration Circle, the Forks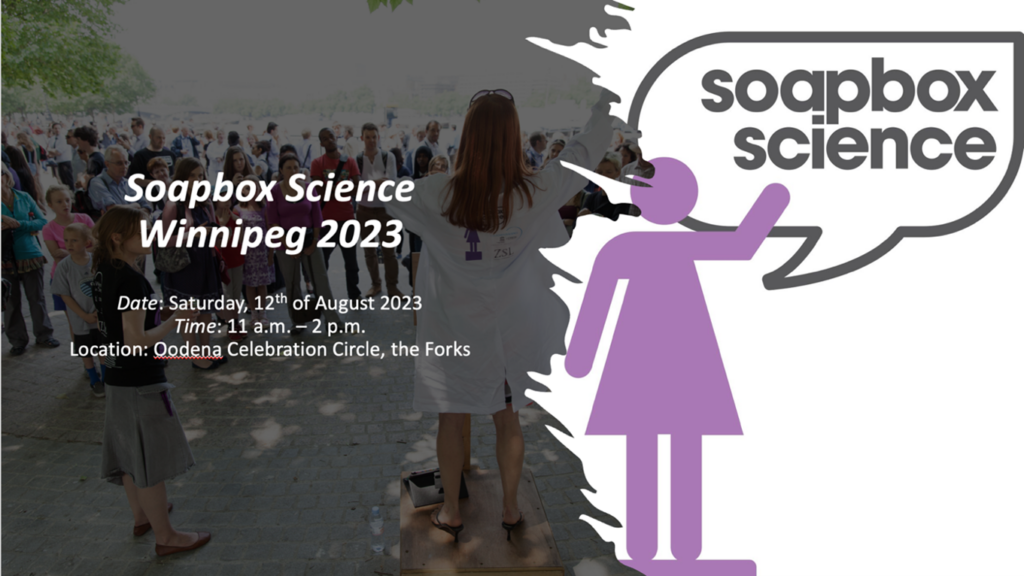 Sponsors
We could not run this event without the generous logistical and financial support of our sponsors.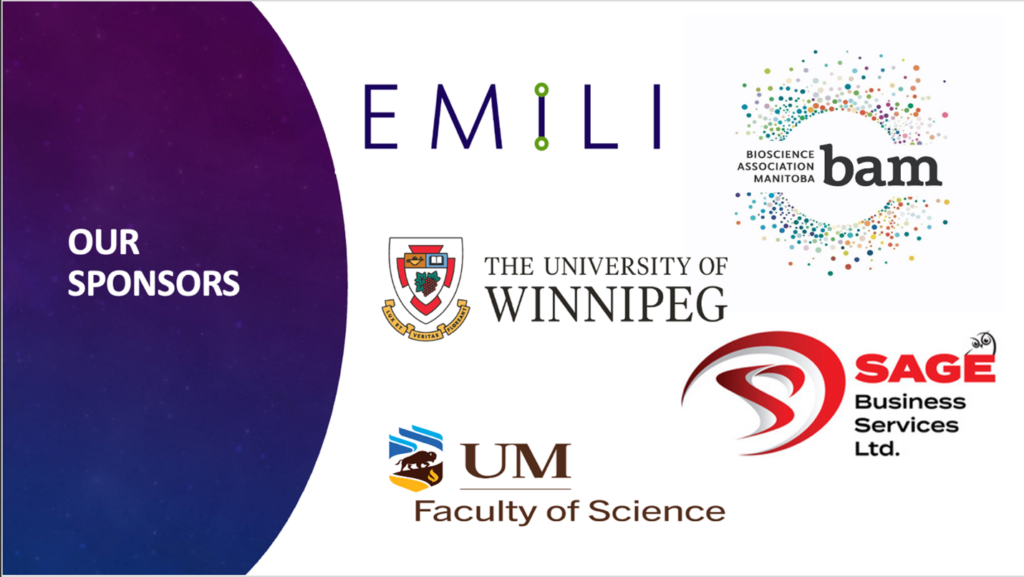 We would also like to thank our generous sponsors, Nils Bodker, Howie Kroon, Julieanne Kerr, Shawn Kerr, KeepSake Consulting and GoGalaxyCanada for all their support.
Meet our 2023 speakers!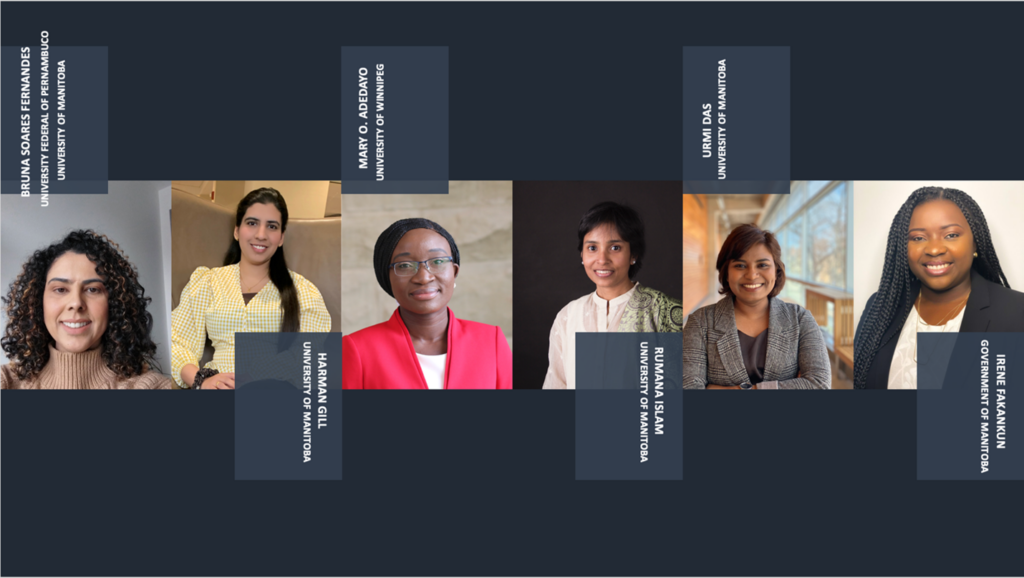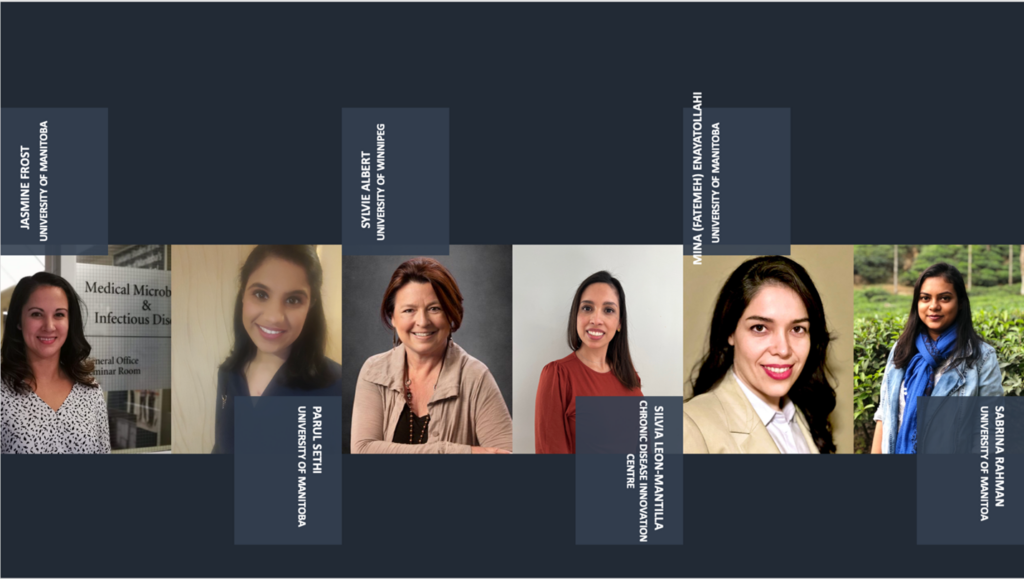 Speaker details
Selected from a competitive pool of researchers, our speakers will be sharing their work in technology, science, agriculture, medicine and engineering. The speakers and their discussion topics are:
Saturday August 12th, 2023
Dr. Bruna Soares Fernandes, Assistant Professor at University Federal of Pernambuco and visiting professor at University of Manitoba, "The environment has been contaminated! How bioprocesses can help"
Harman Gill, PhD Candidate, Dept of Chemistry, University of Manitoba, " Bridging the Gap between Genes and Natural Products"
Dr. Mary O. Adedayo, Assistant Professor, Applied Computer Science, University of Winnipeg, " Getting digital evidence from mobile phones"
Dr. Rumana Islam, Research Associate, Dept. of Biosystems Engineering, University of Manitoba, "Biopolymer from waste: a road to pollution free future"
Dr. Urmi Das (@ur_mi_das), Postdoctoral Researcher, University of Manitoba, "Unlocking the Secrets of Your DNA: The Science of Polygenic Scores and Precision Medicine"
Dr. Irene Fakankun (@DrFakks), Government of Manitoba, " Oleaginous Red Yeasts: Producers of Triacylglycerides and Carotenoids"
Jasmine Frost, MSc. University of Manitoba, "Mumps, the comeback kid"
Ms. Parul Sethi (@ParulSethi15), University of Manitoba, "Drug resistance evolution drivers in Candida"
Dr. Sylvie Albert, Professor, Department of Business & Administration, University of Winnipeg," Cities working on sustainability: some international examples;"
Dr. Silvia Leon-Mantilla (@silviajulianalm), MD, MSc., Chronic Disease Innovation Centre, "Are you "Kidney" me? Kidneys and Chronic Kidney Disease"
Dr. Mina (Fatemeh) Enayatollahi, PDF at the University of Manitoba, "Sky View, a new perspective"
Sabrina Rahman, Msc, Agriculture and food science, Biosystem Engineering, University of Manitoba, "Fungi-fueled Future: Mycelium Coffee Cups as Sustainable Solution"