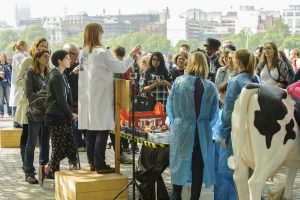 Soapbox Science enters its 8th year in 2018, and promises to bring a summer of excitement, fun, and fantastic science. This year we are growing and expanding to be bigger and better than before, with events organised across the world. On top of this, Soapbox Science is exploring new avenues with six Art & Science events taking place in art festivals around the UK.
Apply to be a speaker!
We are excited to announce that the 'call for speakers' for Soapbox Science's 2018 events is NOW OPEN! 
But… we need your help! We are looking for women in all areas science, from PhD students to Professors, and from entry-level researchers to entrepreneurs, who are passionate about their work and want to spread the word.
What is Soapbox Science?
Soapbox Science is grass-roots science outreach organisation that brings cutting edge research onto urban streets whilst also promoting the visibility of women in science. We place inspirational speakers on soapboxes and encourage them to engage in and start conversations with the public about their work.
Why should you apply to be a Soapbox Science 2018 speaker?
• Engage with people who might not otherwise encounter science
• Help break down stereotypes of who is a scientist
• Become a role model to inspire the next generation of scientists
• Increase the visibility of your research to the wider public
• Experience a new, different and fun way of science communication
What other benefits you will gain from taking part?
• Training at one of our bespoke Soapbox Science training workshops
• Chances to meet other fantastic women scientists from around the world and join our growing Soapbox Science Alumni community of over 550 inspirational speakers
• Have the opportunity to write blogs and articles for Soapbox Science which highlights your work and ideas of how best to increase the visibility of women in science
Where and When
Our UK & Ireland events are:
Aberdeen- May 26th
Brighton- June 2nd
Canterbury- June 23rd
Cardiff- June 2nd
Edinburgh- June 2nd
Exeter- September 22nd
Galway- July 7th
London- May 26th
Milton Keynes- June 30th
Newcastle- June 16th
Norwich- October
Oxford- July/August
Sheffield- September
Swansea- June 23rd
York- June
Our dates for our overseas events are:
Arusha, Tanzania- June
Berlin, Germany- June 1st
Calgary, Canada- June 16th
Chicago, USA- July 21st
Halifax, Canada- June 16th
Munich, Germany- July 7th
Toronto, Canada- September 23rd
Umeå, Sweden- May
Windsor, Canada- May 12th
Have we convinced you? Sign up for one of our Soapbox Science events here