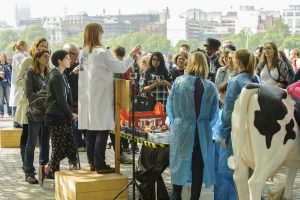 Soapbox Science enters its 8th year in 2018, and promises to bring a summer of excitement, fun, and fantastic science. This year we are growing and expanding to be bigger and better than before, with events organised across the world. On top of this, Soapbox Science is exploring new avenues with six Art & Science events taking place in art festivals around the UK.
What is Soapbox Science?
Soapbox Science is grass-roots science outreach organisation that brings cutting edge research onto urban streets whilst also promoting the visibility of women in science. We place inspirational speakers on soapboxes and encourage them to engage in and start conversations with the public about their work.
Where and When
Our UK & Ireland events are:
Aberdeen– May 26th
Bluedot Festival– July 21st
Brighton– June 2nd
Bournemouth– September 29th
Cambridge– June 2nd
Canterbury– June 23rd
Cardiff– June 2nd
Edinburgh– June 2nd
Exeter– September 29th
Galway– July 7th
Grantham– September 29th
London– May 26th
Milton Keynes– June 30th
Newcastle– June 16th
Norwich– October 27th
Oxford– July 28th
Perth– May 19th
Plymouth– September 30th
Sheffield– September 22nd
Swansea– June 23rd
York– June 9th
Our dates for our overseas events are:
Arusha, Tanzania- August 8th
Berlin, Germany- June 1st
Calgary, Canada- June 16th
Chicago, USA- July 21st
Halifax, Canada- June 16th
Munich, Germany- July 7th
Toronto, Canada- September 23rd
Umeå, Sweden- May 26th
Windsor, Canada- May 12th