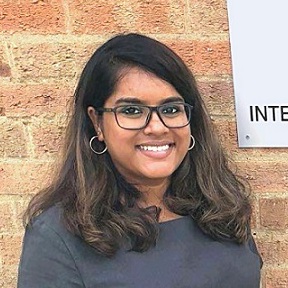 Cordelia is a PhD candidate at Cranfield University, working with the Integrated Vehicle Health Management (IVHM) Centre. Her research focuses on improving the diagnosis process for aircraft maintenance through digital twins and intelligent reasoning.
You can catch Cordelia on her soapbox as part of Soapbox Science Milton Keynes on 29th June, where she will talk about how aircraft health be monitored so that they are safe, sound and reliable.
Follow Cordelia on Twitter: @liaezhil
Everyone has a story! Some stories are as dramatic as a Netflix binge-worthy series, some may inspire you to change your life, and others make you think, 'Oh, yeah! I could totally relate to this'. Everyone has a story to tell, and thanks to Soapbox Science, I get to tell mine.
Where did it all begin?
My small town in India had three schools, about six streets, and a train station that connected us to the outside world. Although I grew up in a place with limited facilities, I dreamed big. With my dad's bedtime stories about the universe and evolution, my mum's encouragement to get involved in any local science events, and the timely publication of Stephen Hawking's essays meticulously translated to Tamil (my mother tongue), I was hooked on space science and engineering as much as any kid smitten by the beauty of space. Maybe that's why, when I was interviewed by a local newspaper, I said I would become an aeronautical engineer. I was only 15! Working in this field and advancing it has always been, and will always be, my dream.
Was the journey easy?
My dream took its first step when I was admitted to a prestigious engineering college in the big city (Madras, now called Chennai). As a small-town girl, with a really good score but not so good English, I did not know how to handle people who treated nerdy 'village' girls as if they were pests. And since I was always treated equally among family as well as at school, I did not anticipate my first step to be into a world where women weren't treated the same as men.
This is the hardest truth of life that I have dealt with ever since. A decade ago, I was made to feel as if the fields of mechanical and aeronautical engineering were exclusive to men (I hope it isn't that bad now), and many in the department treated the few girls on the course as an unwanted burden. We were ostracized and left out of group projects and industrial visits. We were ignored for the fun flying lessons. One of the guys even accused me of 'wasting' a place on this coveted course, which could have been occupied by a 'guy' who 'deserved' it. To him (and to the department in general), a girl will get married and be at home anyway, so she shouldn't have chosen such a sought-after course, and in doing so, she had 'robbed' a guy of his 'opportunity'.
The irony is that among the hundreds in the competition, I was the second to choose the course due to my higher grades (I scored a distinction), but the logic did not matter to them. I'm not one to shy away from challenges, so I learnt to ignore this toxic group, used the facilities that the college had to offer, and got honour scores. I have a feeling that every other girl in my class felt the same, for when the course ended, out of the 11 university rank holders from our department, half of us were girls, in spite of our numbers being significantly small.
What was the turning point?
After graduating from my bachelor's, I felt as if I was missing something, thanks to my undergrad experience! So I undertook a master's course in industrial engineering and met the awesome professors who inspired me and made me face life's challenges head-on. Through my jobs in the energy and semiconductor industries, where I worked for four years, I became a fully-fledged industrial engineer identifying problems in complex processes and introducing optimised solutions. Having had this experience, I decided that it was time to move back to aeronautics through research.
What are you doing now?
I am currently working on my industry-sponsored PhD at Cranfield University with the IVHM Centre. The Centre focuses exclusively on aircraft health diagnosis and prognosis to help develop better maintenance plans. It feels like we are a bunch of aircraft doctors who are trying to make these complex machines talk to us. I am focusing on developing an application for an aircraft that works a bit like a Fitbit. By collecting and analysing data from the different parts of the aircraft, we will find ways to make it healthier and therefore safer! I am living my dream, and building the foundations to live my future dreams.
Is this a story of an individual?
Not really! Sometimes, it feels as if my entire family is pursuing this PhD with me. When I got miserable at work in industry, and it felt like I was even further away from my dream, it was my boyfriend (now my husband) who pushed me to do research. He even got a loan to get me started. I also have a big support group in my parents, who gave me everything they could, my three siblings who always check on me (and of course make fun of me!), and then there are my in-laws, who have no idea what I am doing but encourage me nonetheless. I did find one other family, away from home, in the form of my fellow researchers in the IVHM Centre, who share this incredible journey with me.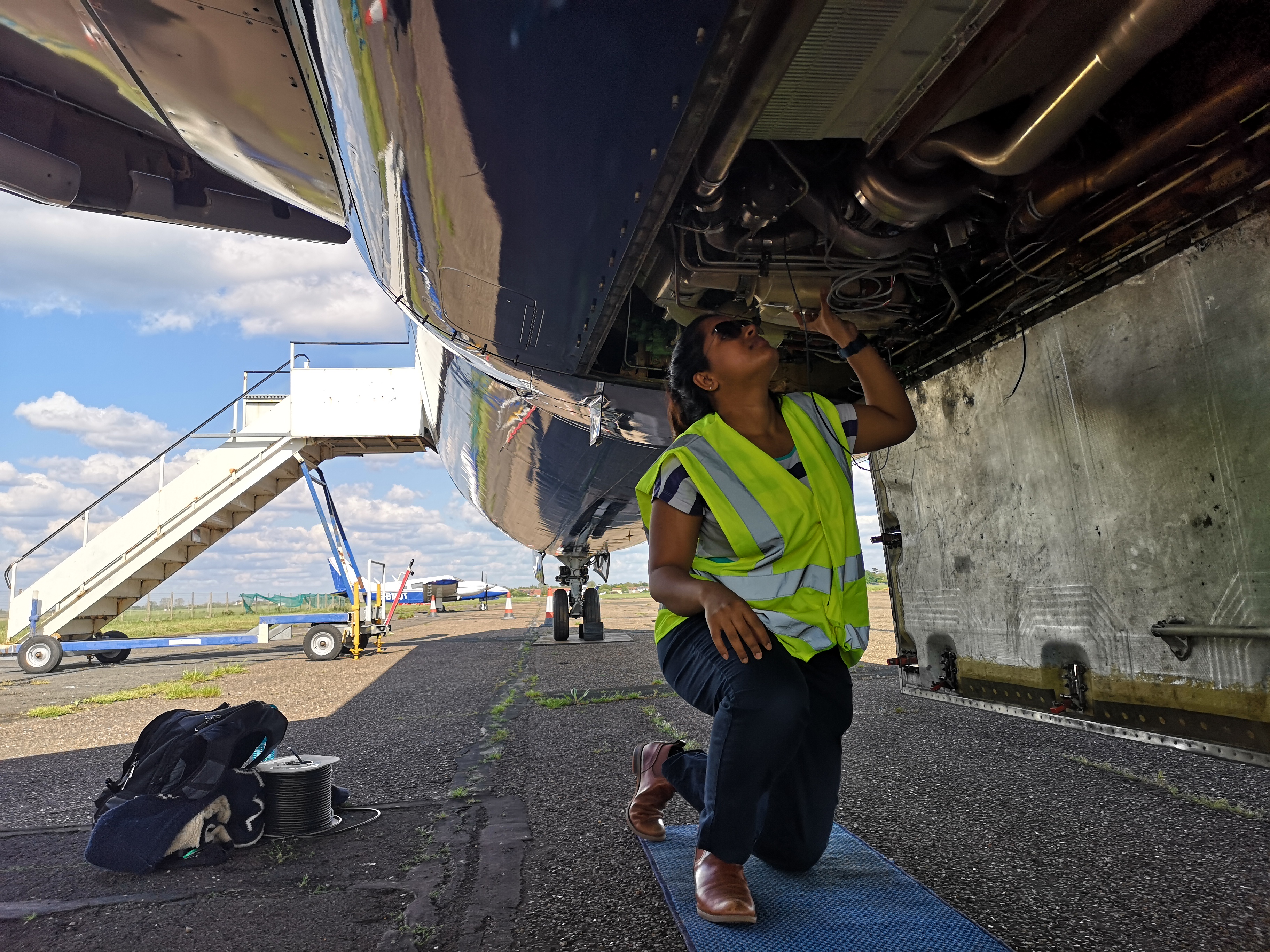 What keeps the story going?
Somewhere along the line, my passion for aeronautics turned into my ambition for 'women in STEM'.  It is the urge to break the idea that women cannot survive in demanding fields such as this, that keeps me going. I cannot resist challenges, especially those to do with breaking stereotypes.
Why Soapbox Science?
There can be a hesitation to allow women to study or work in any male-dominated field. Among those who dreamt, not all women were allowed to choose what they wanted to study, and among those who studied, not all women were able to work in their fields. Among those who started, not all women could survive, and among those who survived, not all could reach the top. Through Soapbox Science, I would like to tell the world, especially those who dream of being in STEM, that they are not alone, and they should dare to chase their dreams.
Besides, who doesn't love to talk about aircraft?