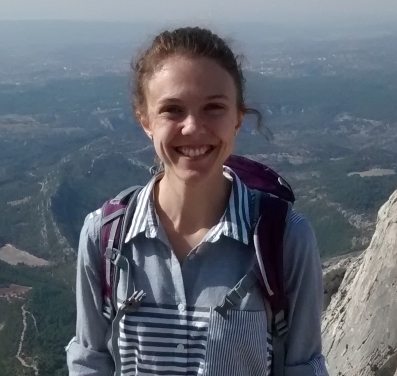 Emmeline Gray is a first year PhD student at the Open University, Milton Keynes. Emmeline is trying to reconstruct what the monsoon in India was doing about two to five million years ago by using marine sediments and the microfossils and nannofossils found in them.
You can catch Emmeline on her soapbox as part of Soapbox Science Milton Keynes on 29th June. Find out why studying the past monsoon is important and how "Tiny fossils can help predict the future".
Follow Emmeline on Twitter: @emmelement
SS: Emmeline, how did you get to your current position?
EG: I did an integrated masters in Oceanography with French at university and when people asked me what I'd do with that strange combination, because I loved the practical side of science, I always said I'd go and work as a lab tech in France! A year after graduating I was lucky enough to actually get this "dream job"! I spent two years working as a palaeoclimate research technician at CEREGE, near Aix-en-Provence, and really enjoyed learning new skills and lab techniques. Then I decided that I wanted more of a challenge and that doing a PhD would offer me a lot of new opportunities and a chance to learn new skills, both in the lab and in "real life", while staying in a branch of science that I really love. So I applied for a few, got accepted at the Open University, and began in October last year. It's been a whirlwind since then!
SS: What, or who, inspired you to get a career in science?
EG: I don't remember ever really deciding to go into science – it just sort of happened! I've loved science and the environment for as long as I can remember. There are scientists in my family, and my grandpa has a collection of scientific toys, so it was always normal to be curious about how things worked and what the science behind things was. I was also lucky to have really good science teachers at the schools I went to. They made the lessons interesting and made sure that everyone in the class understood as much as possible. This was often through practical work which I enjoyed, as I am definitely a 'learning by doing' sort of person.
SS: What is the most fascinating aspect of your research/work?
EG: I find it incredible that by looking at chemical signals in the shells of organisms that were alive millions of years ago we can work out the temperature of the ocean at the time they were living in it! It's like some kind of time travel magic (but more scientific)! Sometimes the practical work can get a bit repetitive, but then I just remind myself that I am probably the first person ever to see this particular fossil. This just amazes me every time.
SS: What attracted you to Soapbox Science in the first place?
EG: I have loved being involved with public outreach activities in the past, and despite being a bit shy, I have enjoyed performing in a group on stage (I once accidentally joined the cast of a pantomime…). I thought that Soapbox Science would be an exciting way to combine two things I enjoy while forcing me out of my comfort zone by not being able to hide in the crowd (or behind pantomime makeup). I think that it's a unique opportunity to talk about science to people who might otherwise never give it a second thought. Often at outreach events it is people who already have an interest in the subject who come along. With Soapbox Science our audience is whoever is walking past on the day, and the challenge is to catch their interest so they stop and listen!
SS: Sum up in one word your expectations for the day
EG: Exhilarating!
SS: If you could change one thing about the scientific culture right now, what would it be?
EG: I think sometimes there can be the assumption that it is normal to be stressed, which means there is a risk of burn out or developing other mental health problems as people try to "push on through". I think this is slowly changing as everyone is becoming more aware of mental health issues and more people are speaking out about their experiences but there is still a way to go in scientific culture in general.
SS: What would be your top recommendation to a woman studying for a PhD and considering pursuing a career in academia?
EG: I think this might be a question for someone further on in their career than me! If anyone has any advice about this I'm all ears! Advice I would give to someone who wants to study a science subject at university would be to follow your interests and go for it. Make sure you ask questions if you don't understand something. It's better to feel a bit silly momentarily while asking than to spend weeks or months not understanding something properly because you were afraid to ask! It's easier said than done though, because it's easy to fall into the trap of feeling like you have to do everything by yourself, but it's definitely worth trying.